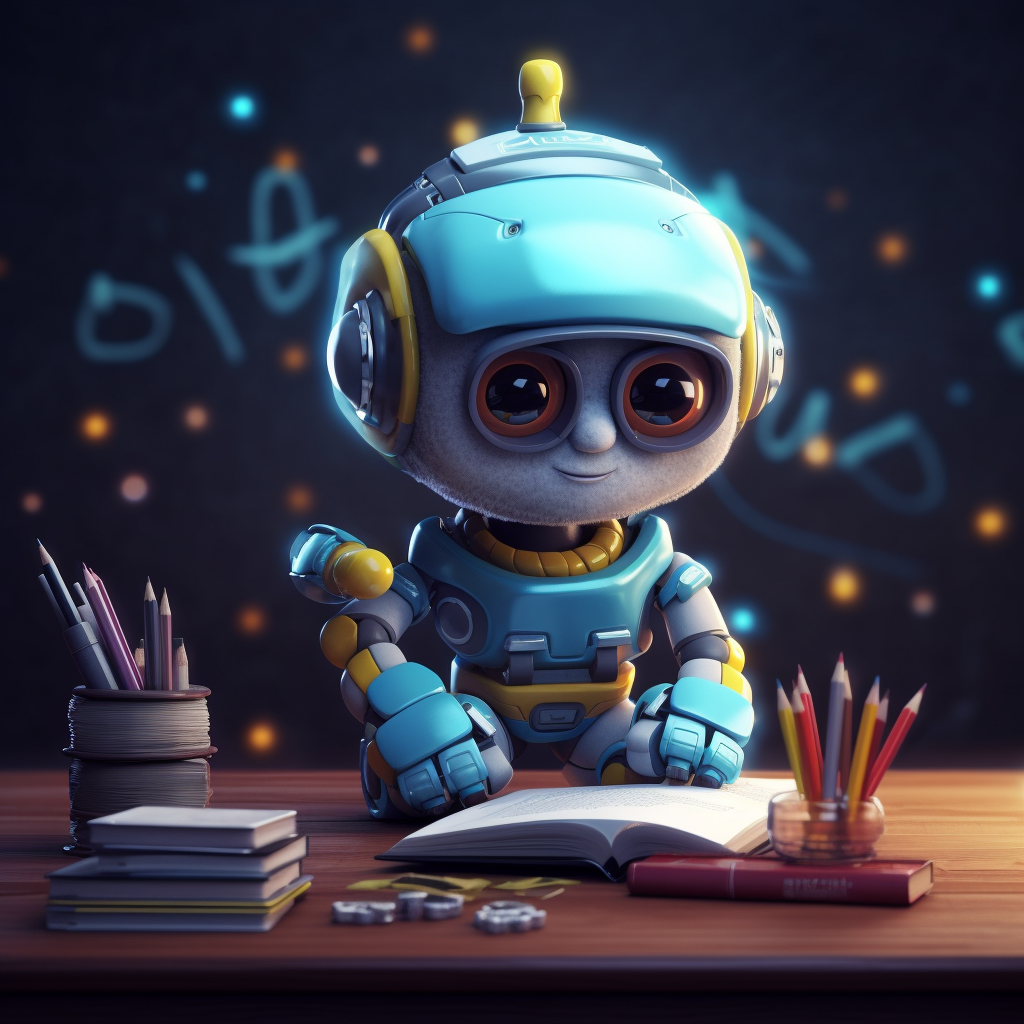 ShortlyAI - The Best Tool To Counter Writer's Block?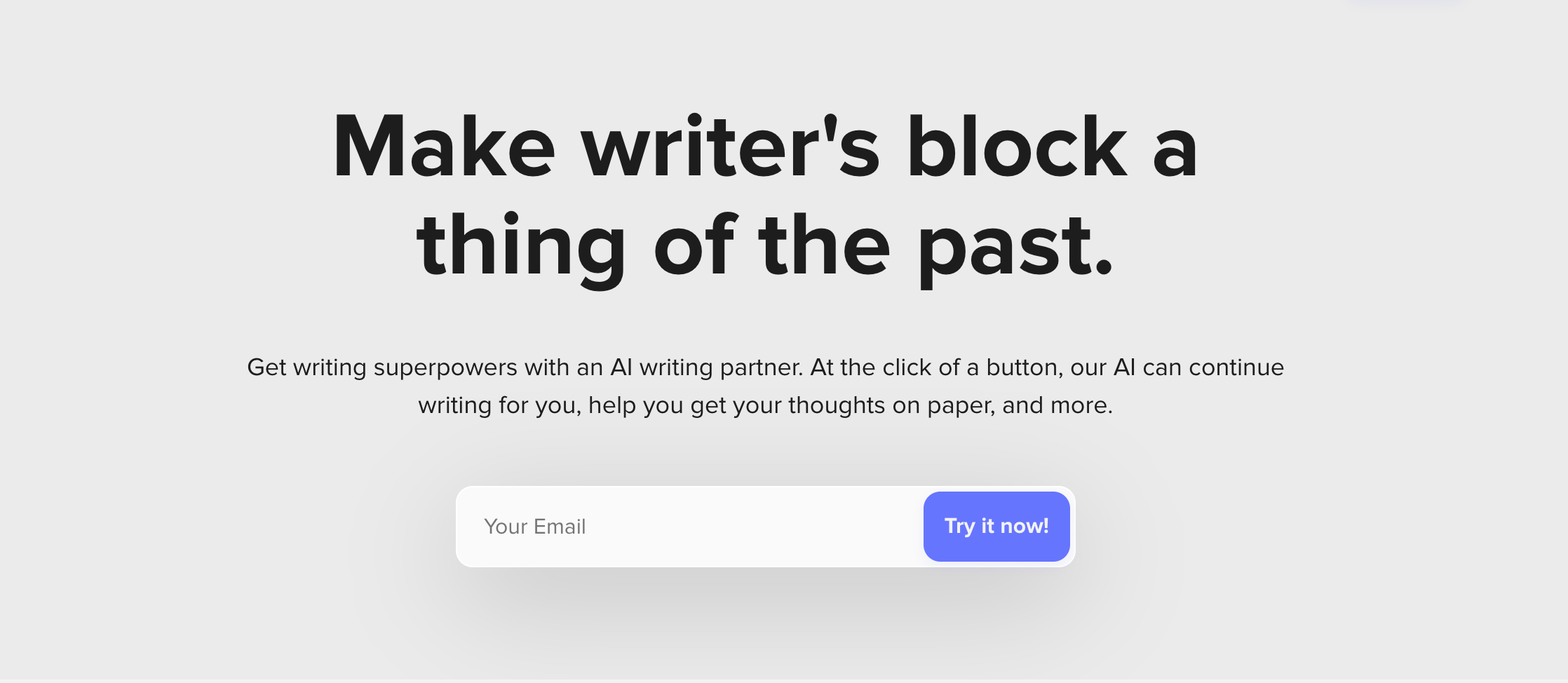 Experiencing writer's block is a thing that almost every creative writer goes through, and it's often marked as a period where you experience a blank mind, sitting in front of a document editor with zero words to put in.
However, there are a lot of tools to help cater to this problem, and another one on that list is ShortlyAI, an AI writing partner that aims to clear your fogged-up brain and get you back on track.
Is this the best tool to help counter your mental block, and start generating words at an unprecedented rate? This review aims to answer this very question, so I suggest you stick around till the end and find out everything you need to know about ShortlyAI!
What Is ShortlyAI?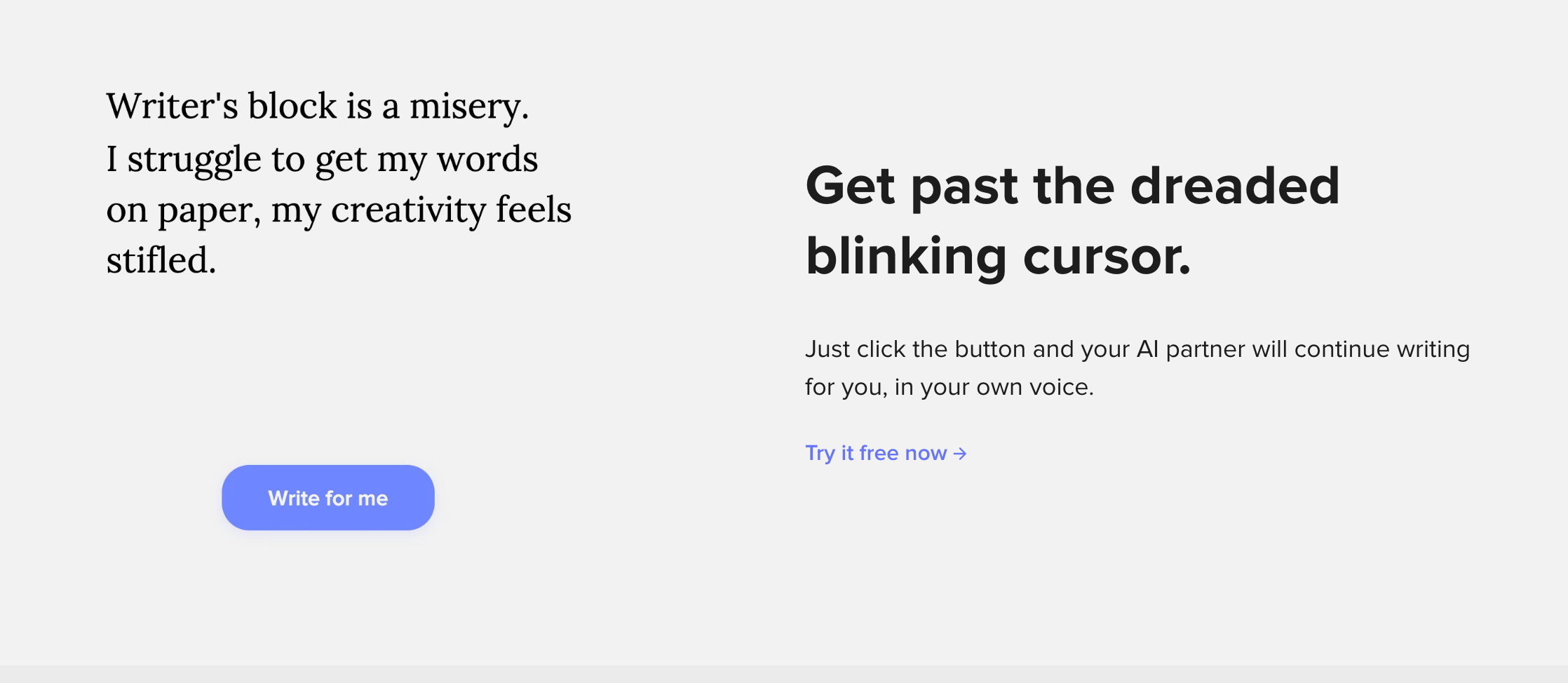 ShortlyAI is an AI-powered writing tool that was launched in August 2020 by Qasim Munye, who was a medical student at King's College London before launching this tool.
The main purpose of ShortlyAI was always to address the issue of writer's block by using artificial intelligence (AI) techniques, such as natural language processing (NLP) and machine learning (ML), to assist in completing sentences and making creative writing easy for the struggling writers out there.
ShortlyAI employs OpenAI's GPT-3 engine, which is a highly advanced AI model known for its text generation capabilities. GPT-3 is widely utilized by various prominent AI writing tools available today. By leveraging AI techniques like NLP and ML, ShortlyAI can generate text that closely resembles human-written content.
Though ShortlyAI still exists as a standalone product, it was acquired by Jasper AI in 2021, which is another AI writing platform that I've talked about on my blog.
ShortlyAI Features
Being a creative writing tool powered using Artificial Intelligence, ShortlyAI brings a myriad of features to the table, which is what proves to be quite beneficial to the writing audience that it targets.
Here's an overview of all of their features, especially the ones that have allowed them to blow up on the internet.
Various Commands For Writing
The best feature of ShortlyAI is how fast you can input certain commands for the AI to do its job. For example, here are four of their most used commands that allow users to write content speedily:
/instruct: Give specific instructions to the AI about what to write about next
/rewrite: Paraphrase/rewrite certain sentences or paragraphs in a different way
/shorten: Make the given text more concise
/expand: Opposite of the /shorten command; allows users to make selected text longer and in-depth
Two Different AI Modes
Initially, ShortlyAI came out as the creative brainstorming partner for creative writers and storytellers that wanted help with their writing.
Now, they have two different modes, one for creative writing such as writing books, novels, short stories, etc, and the other for writing that killer blog post that'll get you ranked on top of your competitors on Google.
All you have to do is choose your given AI template when starting a story, and you can leave the rest to the AI.
Copywriting Frameworks
AI tools, especially the ones that revolve around writing, aren't only good for writing - they're great for marketing as well. When it comes to business marketing, you need highly diversified yet quality copy material to get users to interact with your product and to help with that, ShortlyAI will generate these marketing/copywriting frameworks for you.
Some common frameworks it will help you with include, but are not limited to:
AIDA framework
PAS framework
Before-After bridge framework
ShortlyAI Pros and Cons
ShortlyAI houses a plethora of tools and features, and as a result, brings a lot of good and bad to the table, and here's a summarized list of pros and cons that they have:
Pros
Limitless content generation
Minimalistic user interface
Makes creative writing easy
Offers a free trial
Great for marketing, creative writing, and blog post generation
Cons
Doesn't offer writing tones
Occasionally generated incorrect content
Only supports the English language
It's Not All Sunshine And Rainbows
Having used ShortlyAI, there've been a lot of instances where I found the AI generating non-specific general content that didn't make sense, or even incorrect, nonsensical words put together - So as a connoisseur of AI tools, I had to dive deeper into the issue.
What I found out was that unlike most AI tools that I've reviewed, ShortlyAI uses a poor web crawl feature to find relevant information, and oftentimes, just summarizes the information to make it sound different and unique.
In fact, in its attempt to do that, it often generates incorrect information, which can be quite a hassle as you'll have to continuously read the text, fix the issues, and then move on to the next section.
Who Is ShortlyAI For?
As a writing tool that leverages artificial intelligence, there are a lot of use cases for ShortlyAI. Here are a few of them to give you a better idea of whether this tool is for you or not.
Bloggers That Want Mass Content Generation
Bloggers face numerous challenges in the content creation process, and ShortlyAI emerges as a valuable tool to alleviate these burdens.
By harnessing the power of artificial intelligence, ShortlyAI offers bloggers an opportunity to write engaging content while bypassing the common struggles associated with the writing process.
Long-Form Content Writers
Writers can leverage the power of ShortlyAI to streamline the process of writing long-form content while bypassing the associated challenges. With ShortlyAI's artificial intelligence content generation capabilities, writers can save time and enhance their productivity. Here's how writers can effectively utilize ShortlyAI to create long-form content:
Idea Generation: Writers can utilize ShortlyAI to generate a plethora of title ideas for their long-form content.
Structure and Organization: Creating a solid structure is crucial for long-form content including basic outlines, headings, and more.
Writing Assistance: Once the structure is in place, writers can rely on ShortlyAI to assist with generating content for each section.
Language Enhancement: ShortlyAI can also assist writers in enhancing the clarity and style of their long-form content.
Editing and Proofreading: Writers can utilize ShortlyAI for quick editing and proofreading suggestions using the in-built grammar checker.
Youtube
Youtube cash-cow channels, podcasts, and explainer channels are all the rage right now, and if you want in on the action, the first step is to have a good script on hand. But those youtube script writers are charging pretty high for every single letter they type in an editor.
That's where ShortlyAI comes in. Using its artificial intelligence and machine learning capabilities, this AI writing tool can help you craft a compelling and engaging youtube script, so you can build on top of that and create videos that will attract a large audience, both locally and globally.
Is ShortlyAI Free To Use?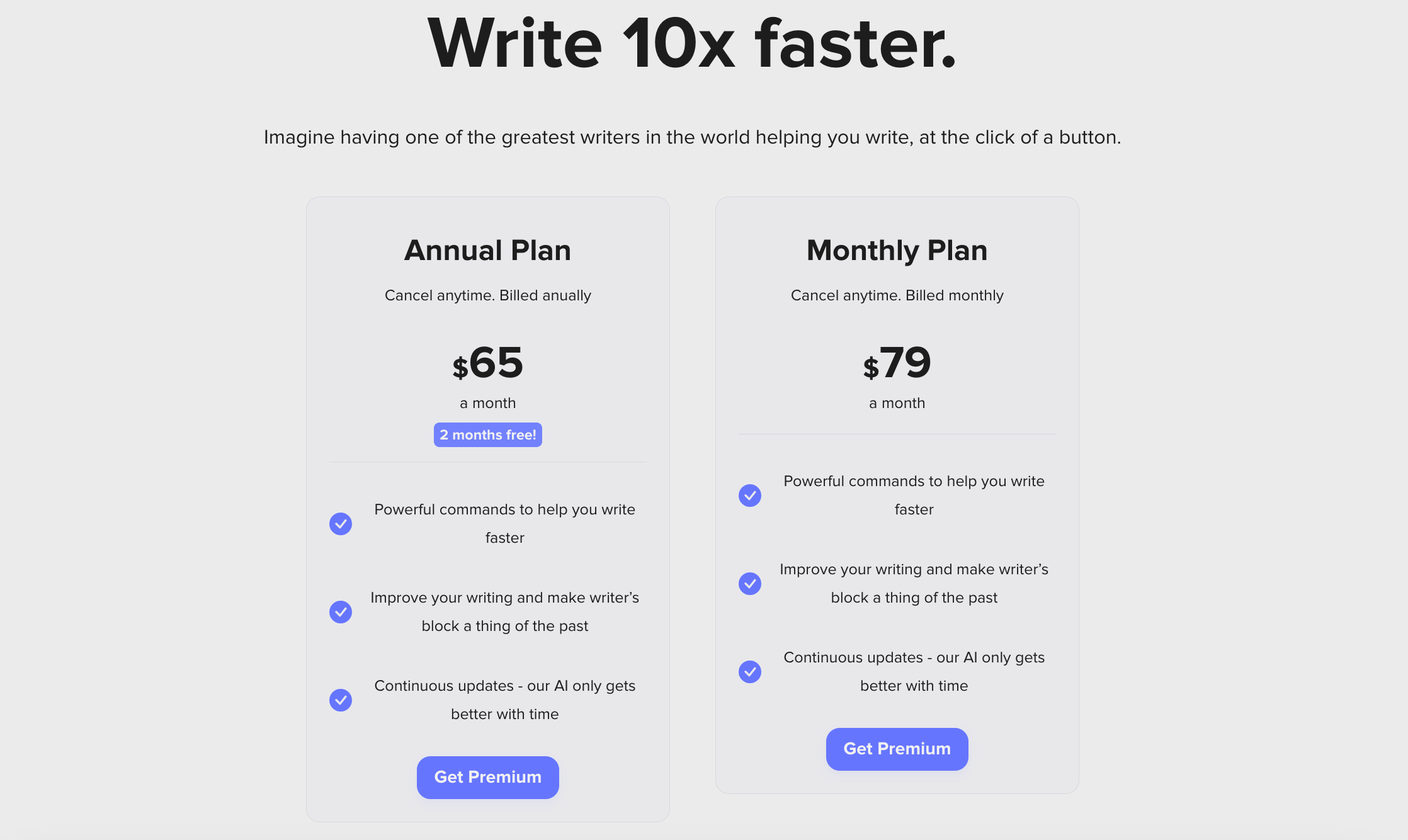 Though ShortlyAI offers a free trial, there are only 300 words of content generation until you need to hop on to their paid plans.
As far as their paid plans are concerned, they only have two, which are the monthly and annual billing of one single plan.
Monthly Plan ($65/month) - Billed monthly, lets you access all of ShortlyAI's features
Annual Plan ($79/month) - Billed monthly, lets you access all of ShortlyAI's features
ShortlyAI Alternatives
Shortly has a lot of great features that prove to be helpful for bloggers, marketers, freelancers, and business owners alike, but it's more than understandable that it won't fit every writer's description out there.
That's why I make sure to list better alternatives to almost every product review I do on this blog, giving you a lot of options to choose from
Some of the best WriteSonic alternatives:
I've also reviewed some of the best writing tools in a detailed blog of mine, so don't forget to check it out here.
Bottom Line
Though there are some sort of shortcomings that ShortlyAI possesses, it's still a pretty good tool for creative writers to write blog posts and novels out there, and help them fight mental block in just a few seconds. All in all, I think it's worth the money if you learn how to use it to complement your writing superpowers.
If you're curious about the advancement of AI, make sure to stay updated with my blog, and sign up for my newsletter to stay ahead of AI in this progressive world, and use it to get ahead of the
Comments
Join the newsletter to receive the latest updates in your inbox.