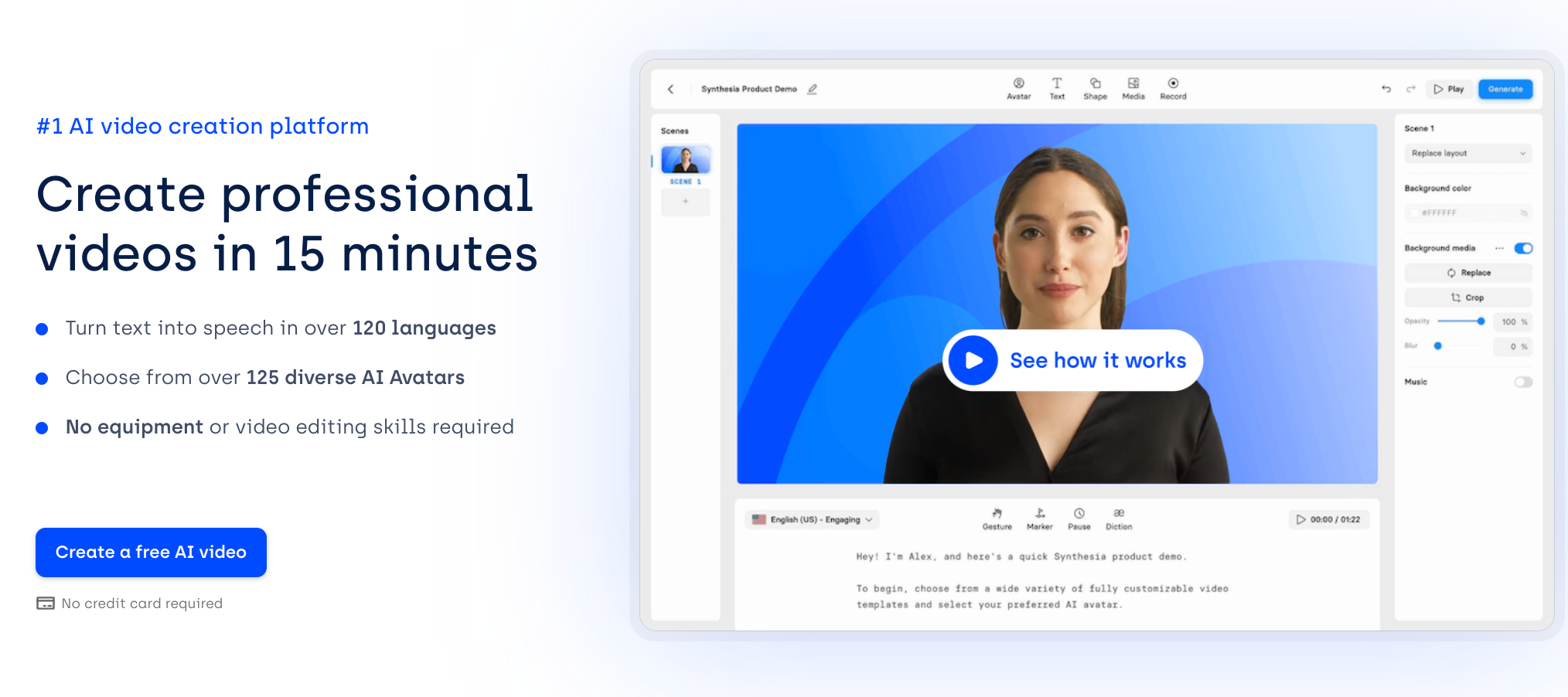 Synthesia
Let AI steer your videos with ease with Synthesia, the first AI-powered video company on the web.
Synthesia, also called Synthesia IO, was one of the first companies on the internet t to use artificial intelligence to help create videos, no matter what kind of a video it is. Ever since their inception, they've been on a roll, racking up a large userbase, and adding more and more stunning features that have been wowing individuals and companies alike.
This tool is a combination of AI voice generation and AI avatars that lip-sync any audio given to them. This combination allows you to insert any script in the AI voice generator, and find an AI avatar to voice this script. You don't even have to be on screen anymore - You can just AI handle the steering with Synthesia AI.
Best Features Of Synthesia IO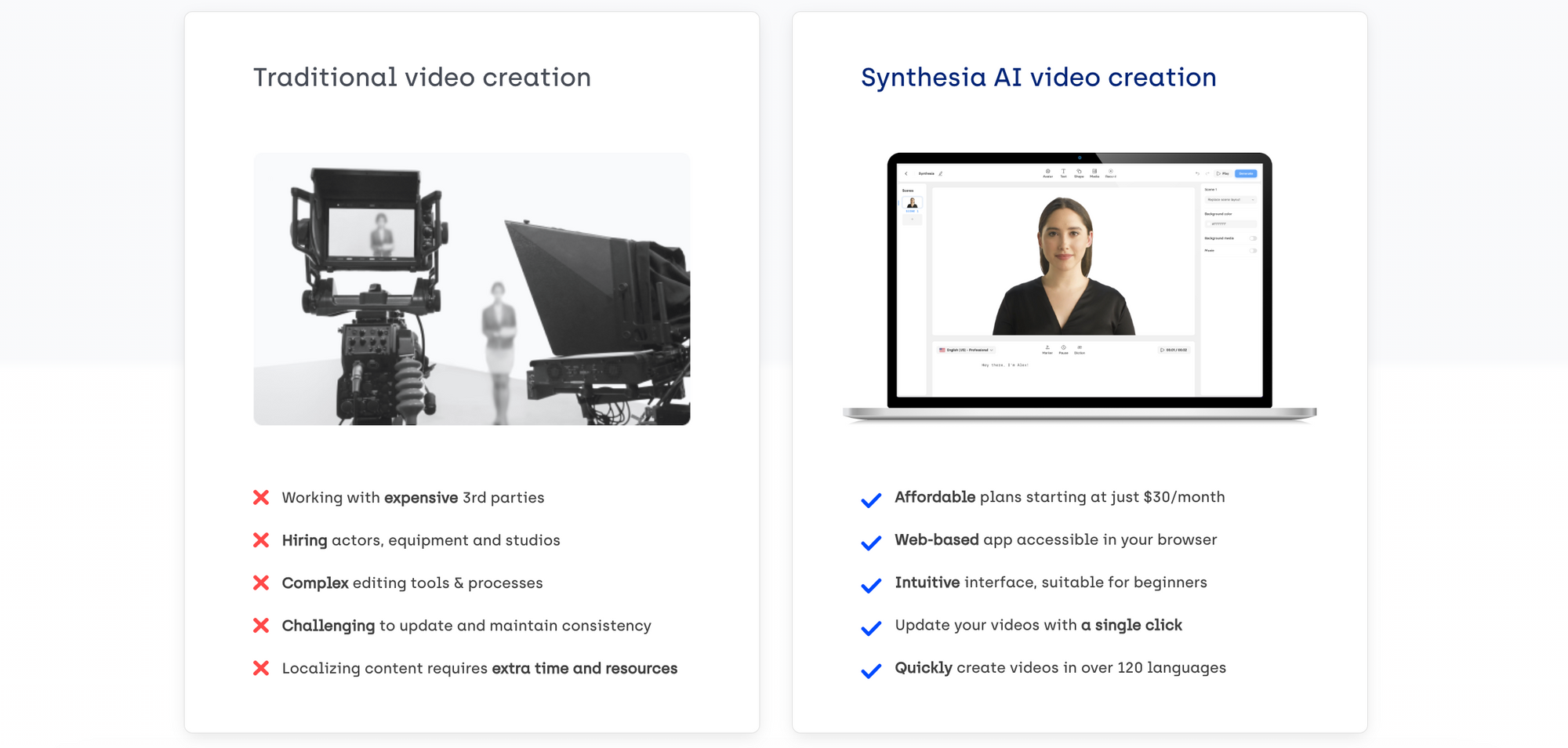 Ever since its foundation, Synthesia has grown in the number of features and tools that they provide. Here's an overview of them to give you a better idea:
Realistic-looking avatars, eliminating the need to hire actors or show yourself
Supports multiple languages so you can cater to a global audience with your videos
Great for explainer videos, social media content, marketing videos, and more
Countless video templates to get you started quickly
A library of free media to choose from
Tools Similar To Synthesia IO
If Synthesia IO isn't your thing, the following alternatives to this innovative marketing tool might catch your attention:
Like Synthesia IO, Elai is a video generation tool that leverages AI and has been on my list for a while now. With Elai, you get to choose from a list of 25 different AI avatars that narrate your script, so all you need is some basic text editing and script creation, and you're good to go!
Movio provides users with more than 200 video templates and is a tool quite similar to Synthesia IO. Its human-like voice generation has put it on the map with other AI voice generators and video creation tools and is definitely worth a try if you want similar features like Synthesia IO  
Though Descript isn't exactly like Synthesia IO, it's a tool that has been creating waves in the market. It's a video editing and production tool that lets you edit videos using text prompts, and automatically transcribes your videos using artificial intelligence.  
How Much Does Synthesia IO Cost?
Here's an overview of the plans available on Synthesia IO: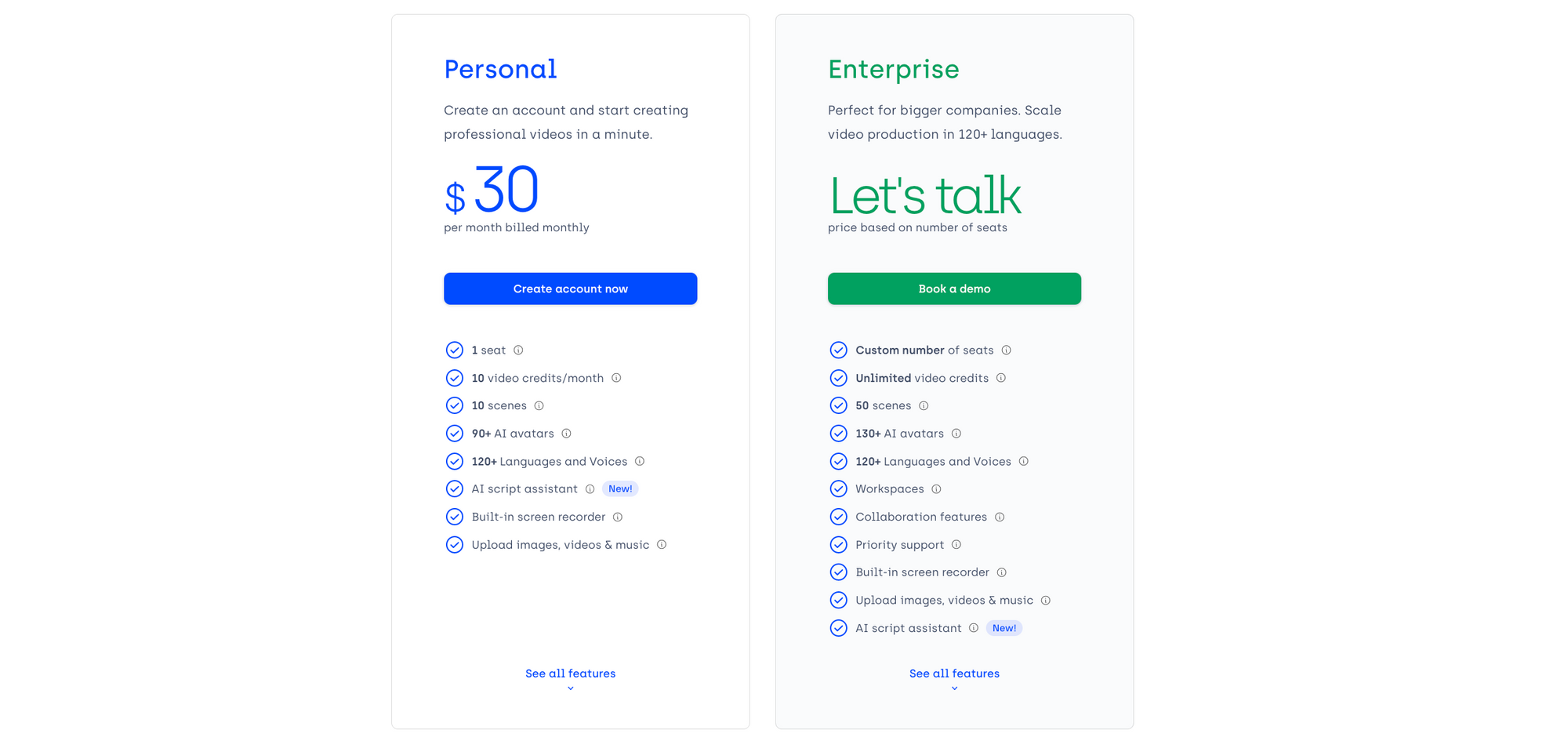 Personal Plan(from $30/month): 1 user, 90+ avatars, 10 video credits and 120+ languages.
Enterprise Plan (Custom): 130+ avatars, custom users, unlimited video credits, and more.
Comments
Join the newsletter to receive the latest updates in your inbox.