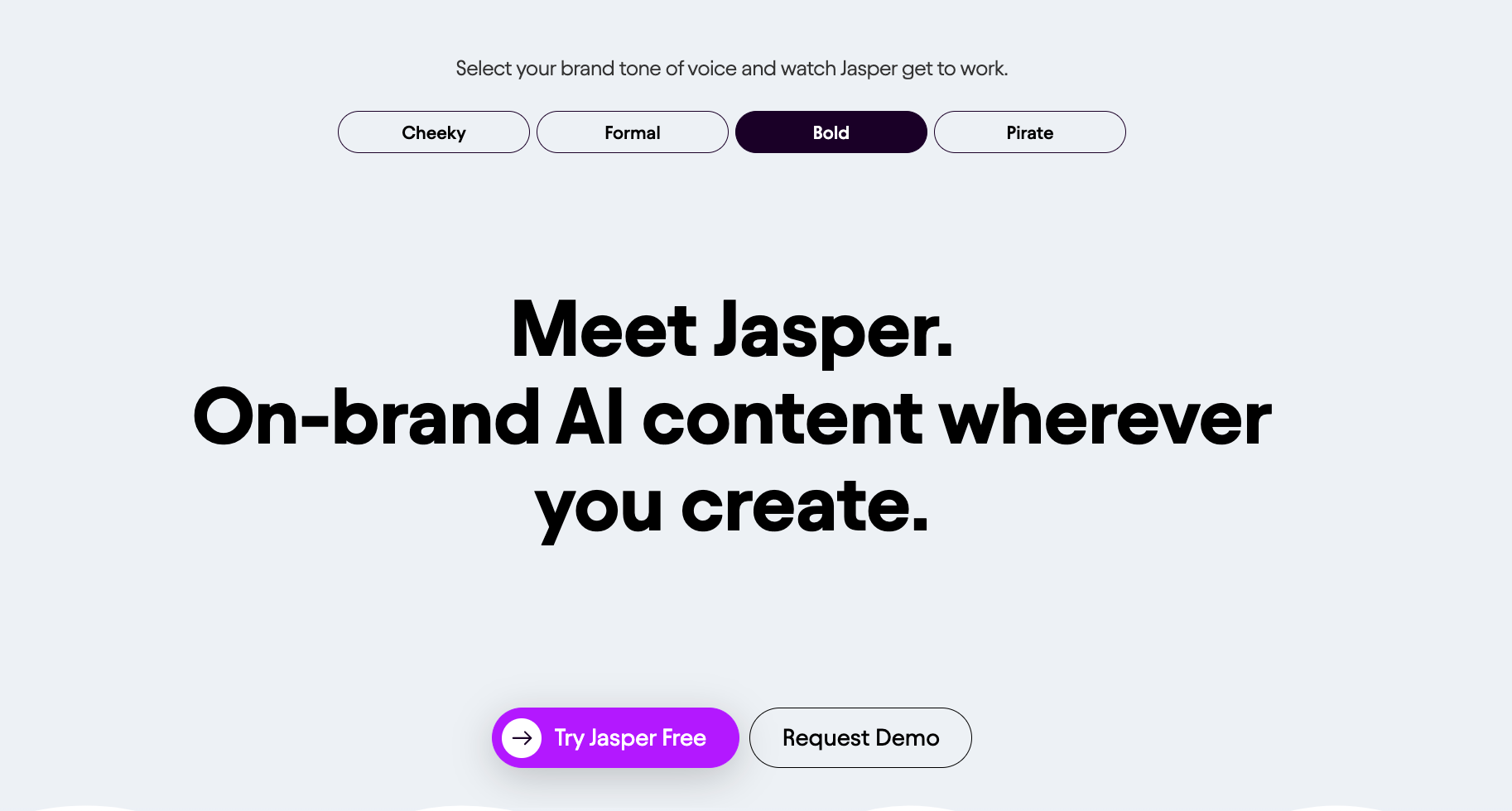 Jasper
Jasper AI is a game-changing writing assistant that unleashes your creativity, boosts productivity, and creates top-quality content in a breeze.
If you're a business owner or writer who hasn't yet heard of Jasper AI (formerly Jarvis AI), you've been missing out on an incredible tool that's shaking up the world of writing and marketing. Let me bring you up to speed.
Jasper AI is an intelligent AI writing assistant that's designed to help you create top-notch content in less time. Whether you're crafting blogs, marketing materials, or social media posts, Jasper AI has got your back. It's equipped with cutting-edge natural language processing, which means it can analyze your text and offer suggestions for improvements in grammar, tone, and style.
There's a myriad of writing templates and tools available on Jasper, which cater to writers, marketers, product owners, enterprises, and more, and this versatility alone is what has made them the go-to writing assistant for everyone looking for a helping hand.
Best Features Of Jasper AI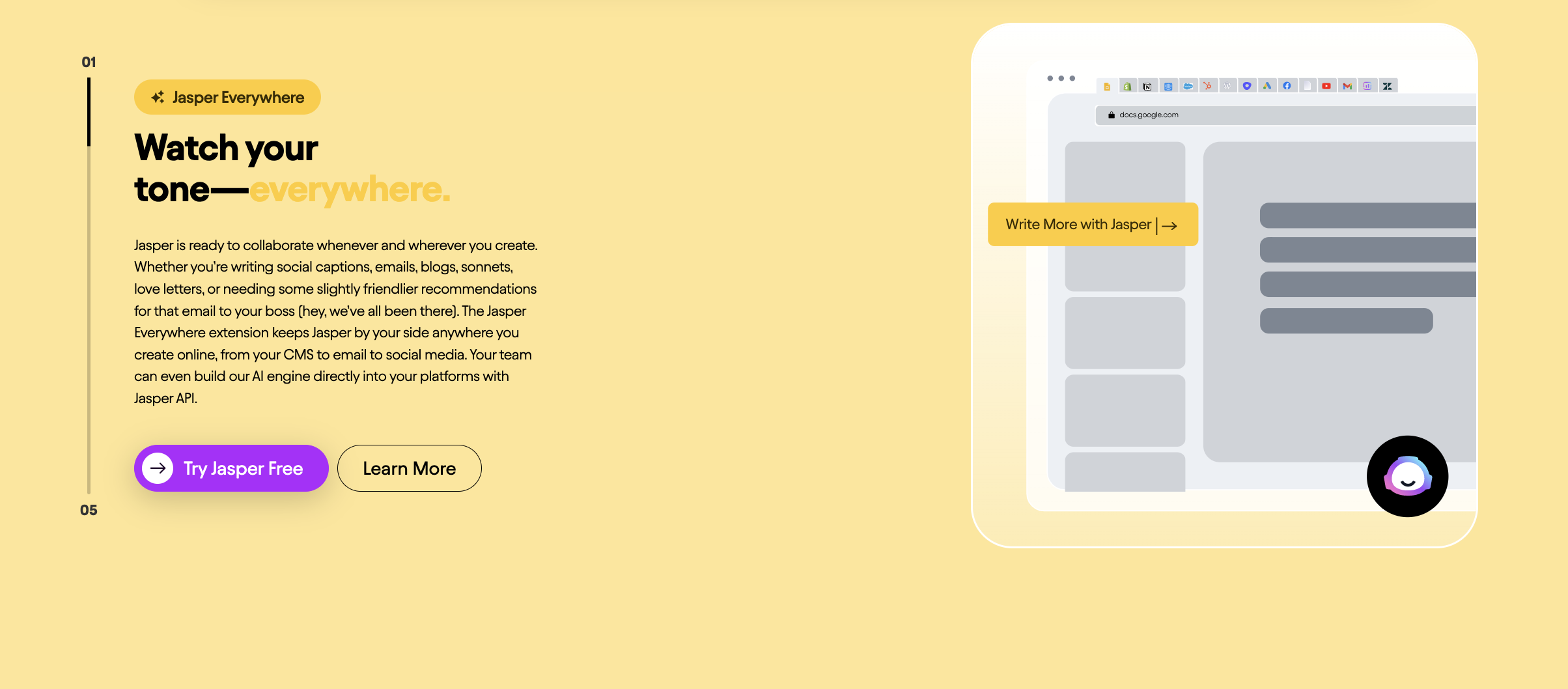 As I mentioned before, Jasper AI is a hubspot for writings looking for a lot of different features (and tools) in one, and while there are too many to fit into a single post, here are a few important key features that Jasper provides to its userbase:
Boss Mode: Use artificial intelligence to create long-form blog posts in a matter of minutes
Paragraph generator to generate small, medium, and large paragraphs on any given topic
Marketing frameworks like AIDA and PAS to create compelling marketing strategies
Mini-tools like Sentence Expander, Content Improver, FAQ Generator, and more make blog posts more reader-attractive and SEO-friendly
Jasper Art feature that lets users use text prompts and get realistic-looking art/images as an output
Jasper Chat: Building on GPT-4 AI model, Jasper Chat responds to any query or question in an engaging manner and scours the internet to find relevant answers.
Tools Similar To Jasper AI
If Jasper AI isn't your thing - Don't worry. There are a lot of similar tools on the internet that prove to compete with what Jasper provides, and a few of them are mentioned below as follows:  
There are a lot of similar tools on the internet that offer similar or better services, 3 of which are explained as follows:
I've reviewed WriteSonic before in my extensive guide about the best AI story generators and for all the right reasons. Like Jasper AI, WriteSonic caters to the SEO freaks and bloggers out there and gives them an AI-powered platform to create compelling blog posts and articles that rank well on Google - all without having to spend countless hours researching and writing about certain topics.
Rytr is an AI-powered writing tool that caters to the marketers out there. Using this tool, you can generate content for ad copies, Google ads, Facebook Ads, and more, all at the click of a button. The tool comes with a minimalistic design and a steep learning curve, so users of any technical expertise, in the AI writing space, will be able to conjure up content in no time.  
CopySmith is a writing tool like the rest of the tools mentioned above but puts a heavy focus on team collaboration features and workflow management. CopySmith has integrations with a lot of different SEO and marketing tools, which include Google ads and Shopify.
And on top of their writing templates and tools, it comes with a built-in plagiarism checker, along with bulk content generation tools that work great with content-creating companies.
How Much Does Jasper Cost?
Like most writing tools that leverage AI, Jasper AI comes with a cost and isn't currently available with a free version.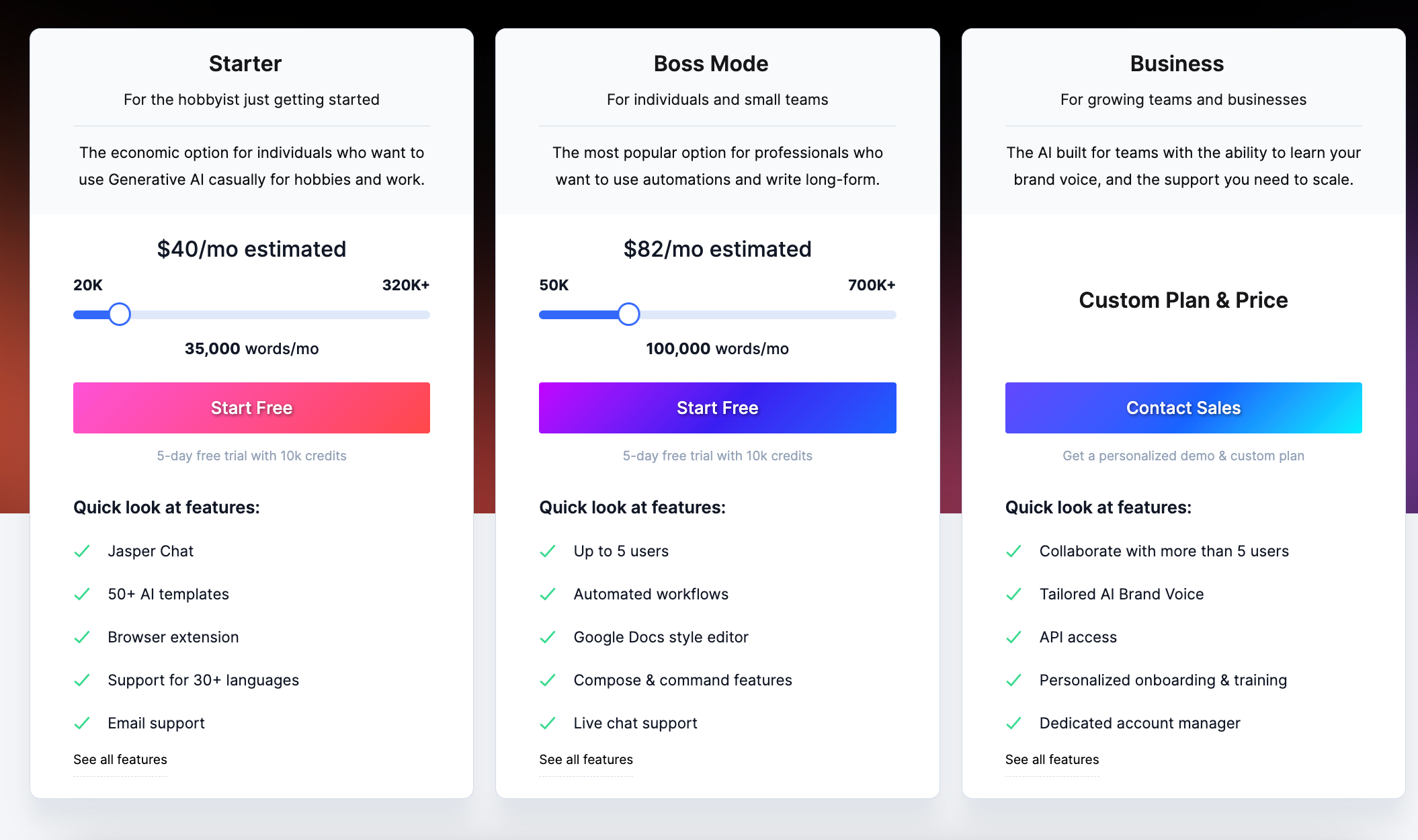 Here's an overview of their plans:  
Starter Plan(from $29/month): 20,000 words and access to over 50 AI copywriting tools.
Boss Mode(from $82/month): Offers everything from long-form content to SEO mode to 5x faster writing speed, along with a built-in plagiarism checker, revision history, and Jasper AI certifications.
Business Plan(Custom Pricing): Allows you to increase the word length and customize pricing to suit your needs, with options like 25,000 or 30,000 words.
Comments
Join the newsletter to receive the latest updates in your inbox.