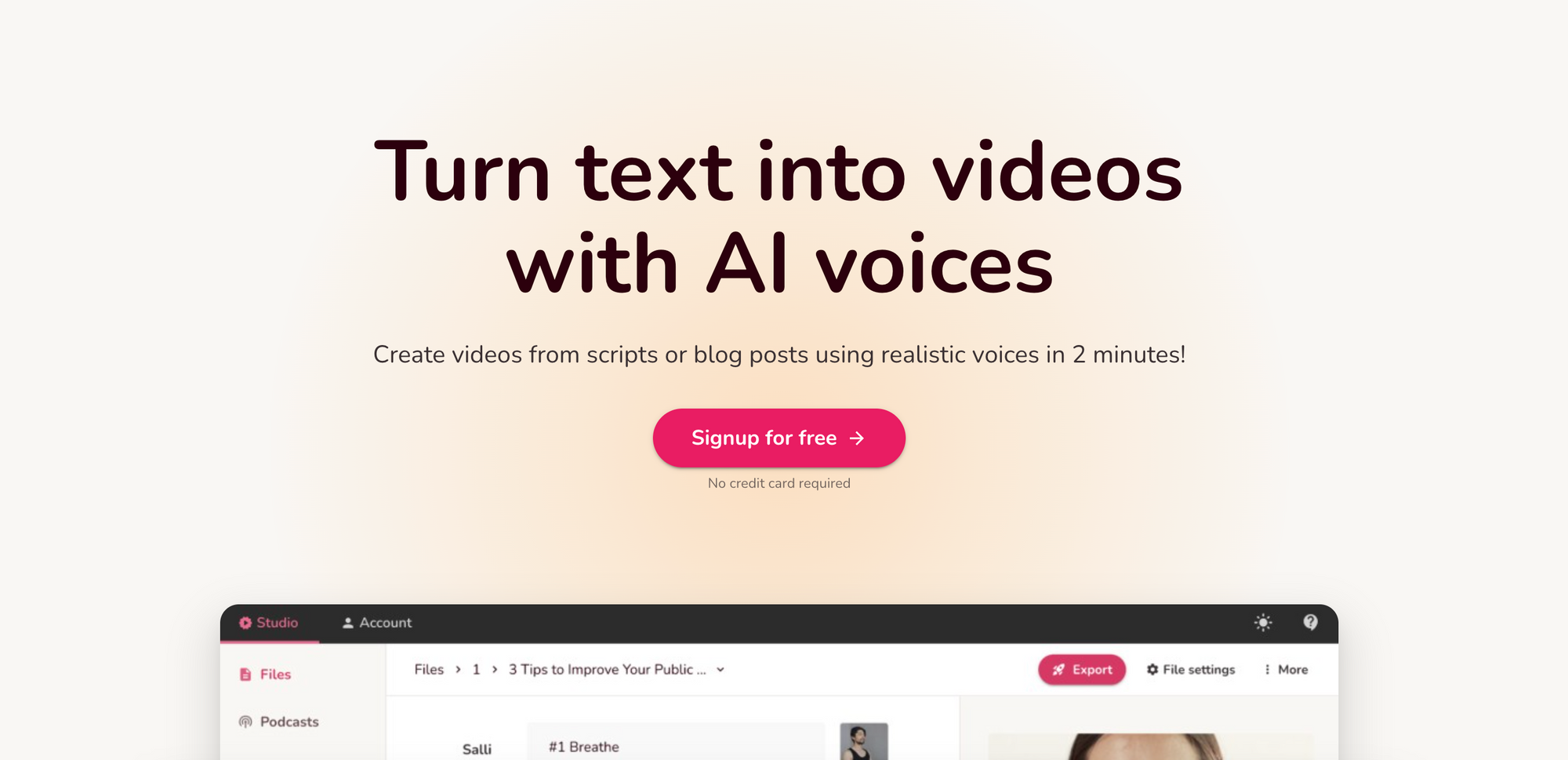 Fliki
Fliki helps you create engaging videos using text prompts in the matter of minutes, thanks to AI and artificial voice synthesis
Fliki is an innovative Text-to-Speech and Text-to-Video converter that empowers users to effortlessly create audio and video content using AI voices within minutes.
Whether you have a blog article or any text-based content, Fliki allows you to transform it into captivating videos, podcasts, or audiobooks with professional voiceovers in just a few clicks.
What sets Fliki apart from the rest of the crowd, for me at least, is their vast library of both AI voices and video templates, which are two core reasons behind their imminent success in the AI tool space.
This powerful combination empowers content creators and YouTubers to produce engaging informational and explainer videos, though that's not their only target audience. It's an easy-to-use, AI-leveraging tool that has been in my good books for a long time, and if you're curious as to what they're all about, make sure to visit their website too!
Best Features Of Fliki AI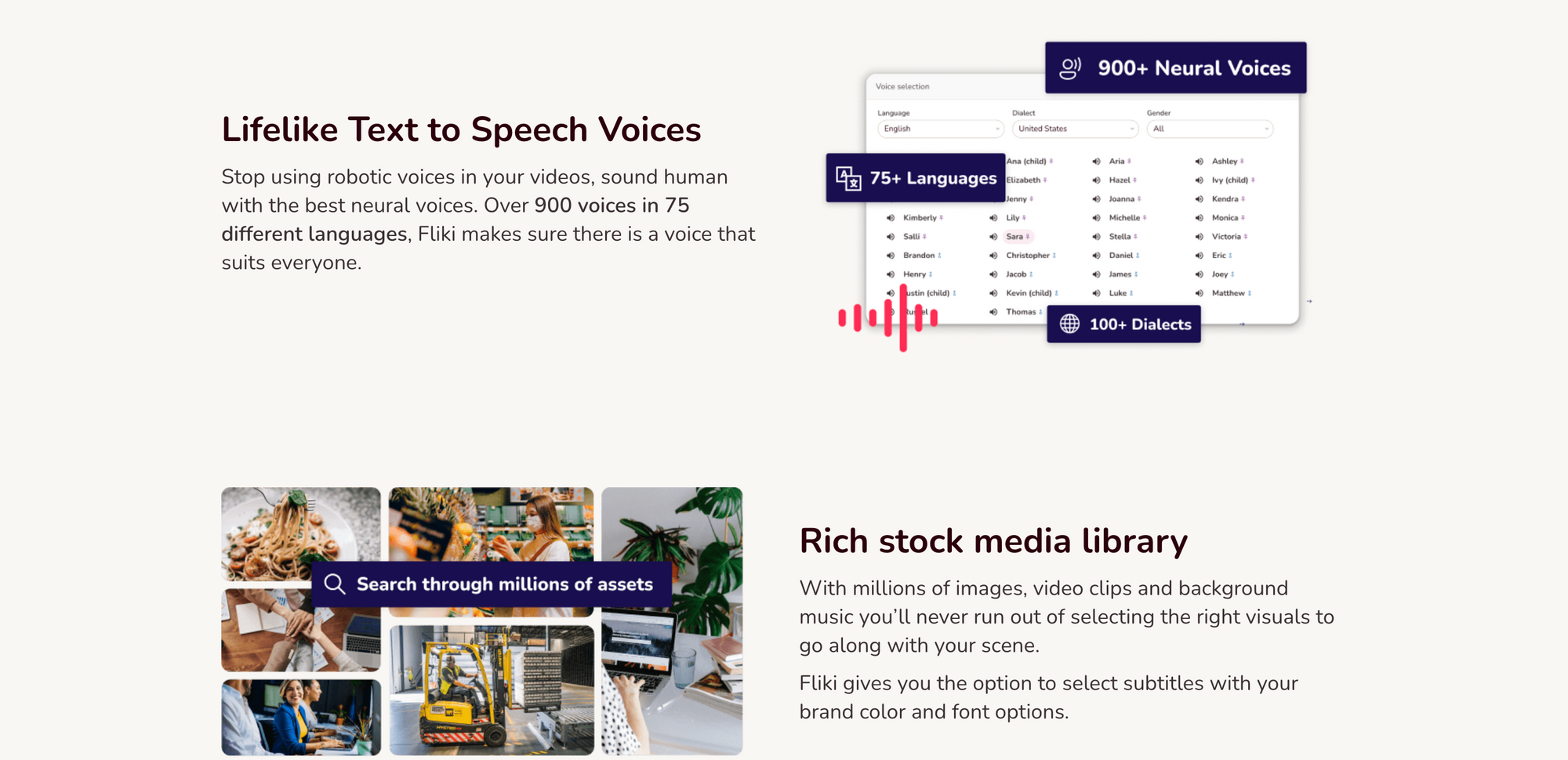 There's a lot to what Fliki is all about, and while this short summary of this tool isn't enough to cover all of its features, I've done my best to keep it concise while covering most of its important aspects.
Supports 100+ languages and up to 75 different dialects
A large library of stock footage and images
Built-in video editor and TTS generator
Great for bloggers and content creators
Offers voice cloning
Caters to podcasters, audiobook creators, and more
Tools Similar To Fliki
Don't like what Fliki has to offer? No worries!
There are a lot of similar tools on the internet that offer similar or better services, 3 of which are explained as follows
Like Fliki, VEED offers both video editing and text-to-speech generation, which has allowed users to easily create videos on the go, and embed AI-generated voiceovers in them without having to use different platforms.    
Typecast makes it really easy to combine AI-based voiceovers and use those new trendy AI avatars, and is a platform that lets users create explainer videos, youtube content, and your overall Instagram reel stuff on an online platform. They've got a lot of different video templates, AI voices, avatars, and an easy-to-use video editor, so they've definitely got a lot going on for them.  
Synthesys IO is almost the same as Fliki and Typecast, except for the fact that they've been targeting a much larger, enterprise-filled customer base, and are way more scalable and famous than the two mentioned platforms. They've often been regarded as the best-combined tool for voiceover and video generation, and have a lot of AI voices and customer-built avatars to choose from.
How Much Does Fliki Cost?
Like most AI voice generators and video tools on the internet, Fliki AI is initially free to use, but has paid plans in case you want to scale your content, and up your AI voice and video generation game.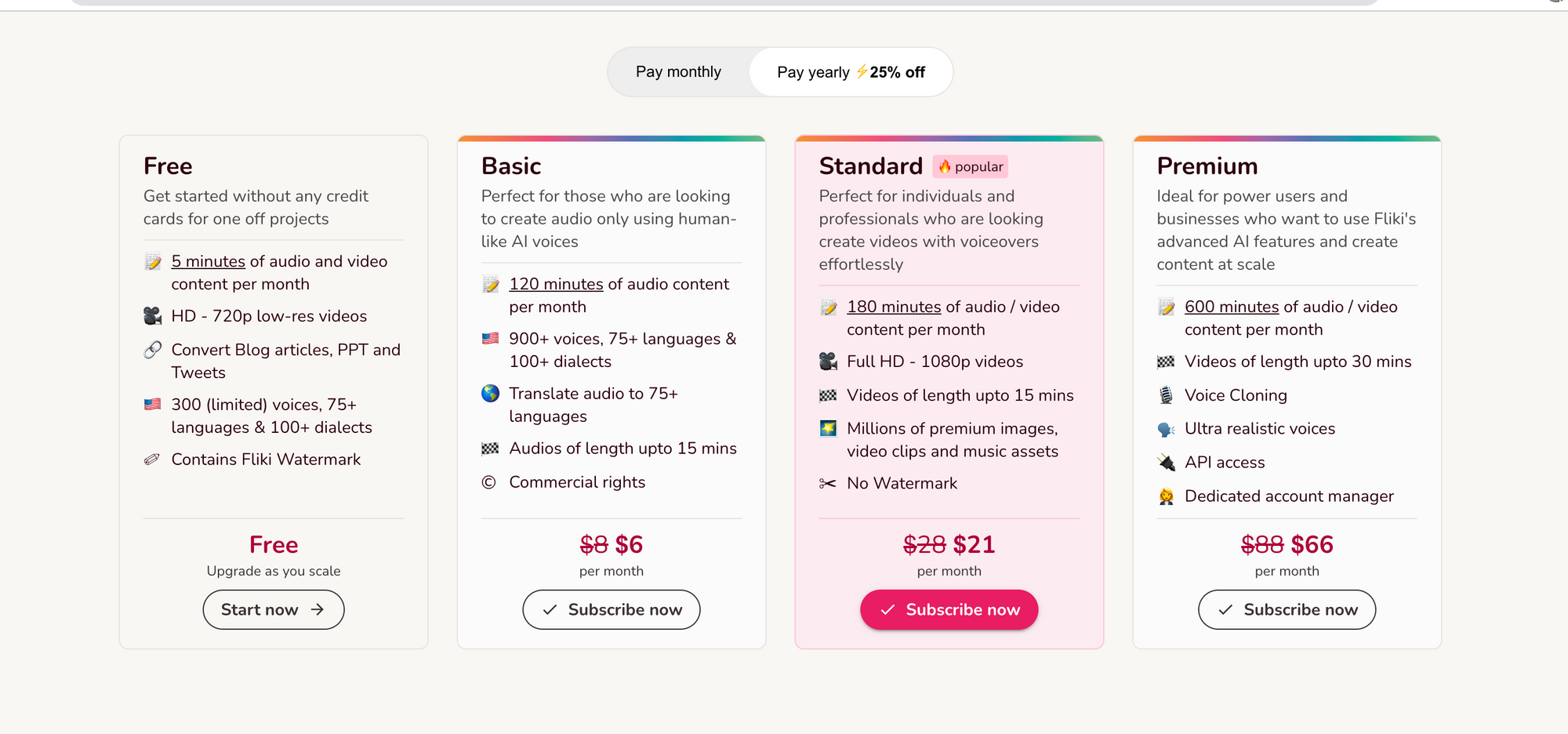 Here's an overview of their plans:  
Free Plan($0/month) - 5 minutes of video/audio generation, 720p output resolution
Basic Plan($6/month) - 120 minutes of video/audio generation, 720p output resolution
Standard Plan($21/month) - 180 minutes of video/audio generation, 1080 output resolution, access to millions of video templates
Premium Plan($66/month) - 300 minutes of video/audio generation, 1080p output resolution, voice cloning, ultra-realistic voices and more.
Comments
Join the newsletter to receive the latest updates in your inbox.