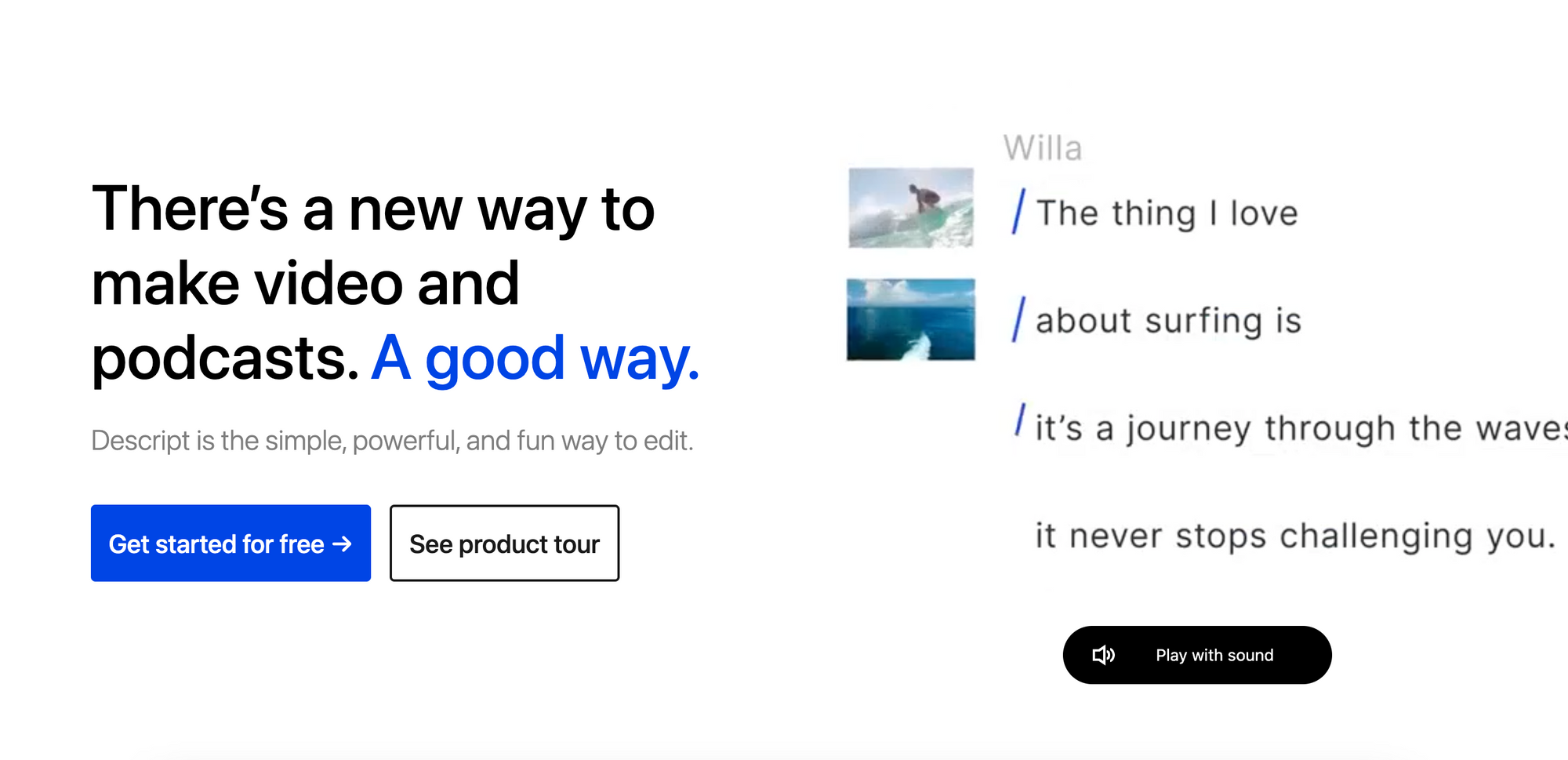 Descript
Descript is an AI-based tool that change the way you view video editing, bringing in textual prompts instead of a complex video editor
Descript is a tool that leverages Artificial Intelligence to completely change the way the public views video editing, especially podcast editing, as a whole. Instead of a generic video editor tool, Descript allows users to edit videos based on text inputs, which begins by auto-transcribing the whole video (thanks to AI), as soon as you load it in.
What's made this tool infamous among podcast creators is the Overdub feature. Forgot to mention the name of a guest on your podcast? (or any other video, btw) No worries - Just input that specific word or sentence in the text editor, and Descript will analyze it, and using your own voice, it'll dub it in the video. Mind-blowing, isn't it?      
Best Features Of Descript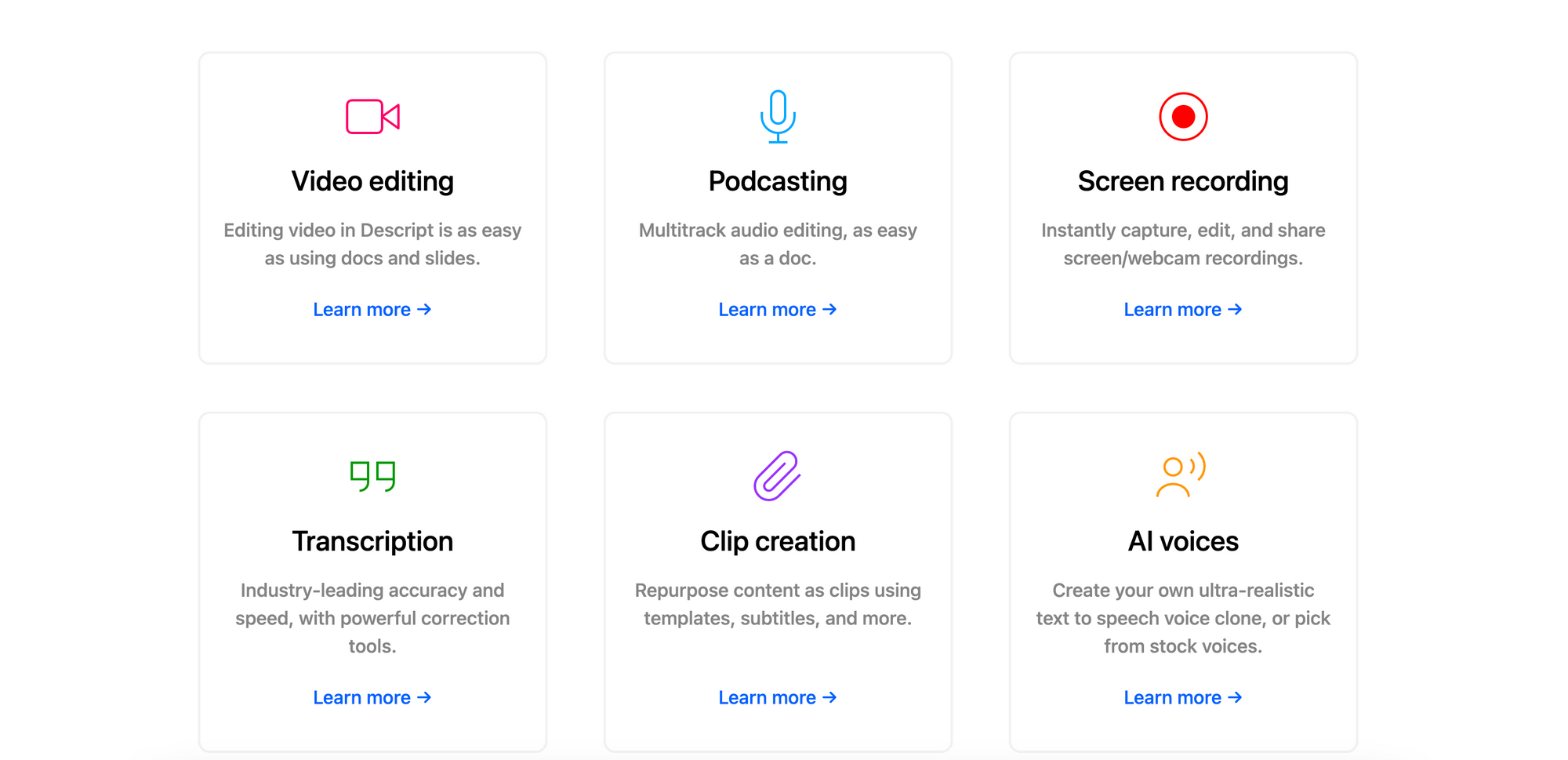 Descript aims to provide ease to the video editing community, so you can cut back on hiring expensive video editors, and take matters into your own hands, especially since podcast creation has been blowing up in the past couple of years.
Here's an excerpt of the services they're offering currently:
Automatic transcription
Built-in screen recorder
Loads of video templates for videos
Subtitle and caption generation
Podcast tools to make production easier
Add/remove words using textual inputs
Tools Similar To Descript
Don't like what Descript has to offer? No worries!
There's a myriad of tools on the internet that provide similar services, and I've reviewed a few of them down below to give you a rough idea.  
Though VEED io isn't a word-based video editor like Descript, it's undoubtedly the go-to platform for a lot of video editors these days, since it's an online platform, and has a plethora of tools like templates, editor, AI voices, screen recorder and more.  
Reduct is another text-based video editor that performs almost the same function as Descript, except that it's an online tool, and has a broader target audience than just podcast creators. It also provides an insightful system for team collaboration, which is what puts it on the map with the big fish in the pond.  
Besides Reduct and Descript, TypeStudio is the only other video editing tool that leverages AI based on textual prompts and inputs. It's a relatively new competitor of Descript and has additional features that allow you to convert videos into blog posts using AI, automatic transcription, and more.
How Much Does Descript Cost?
You can download and use Descript for free, though it comes with a lot of different limitations, and it's only their paid plans where things get more interesting.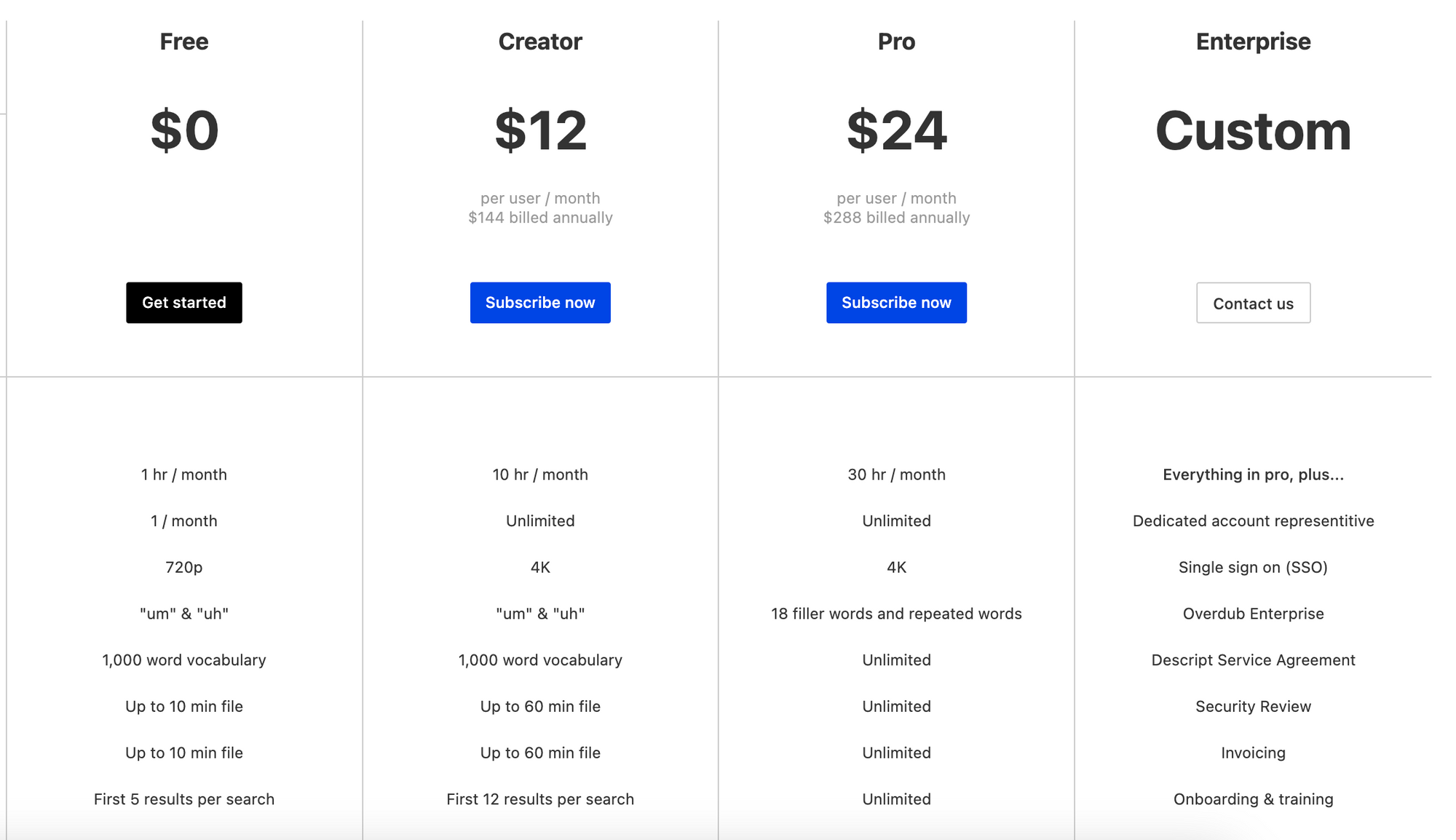 Here's an overview of their paid plans:  
Free Plan($0/month) - 1 hour of transcription, 720p output and 1000 word vocabulary
Creator Plan($12/month) - 10 hours of transcription, 4K output, and 1000-word vocabulary
Pro Plan($24/month) - 30 hours of transcription, 4K output, and Unlimited word vocabulary
Enterprise Plan(Custom) - Everything in the pro plans with a dedicated account manager, onboarding, training, and more.
Comments
Join the newsletter to receive the latest updates in your inbox.