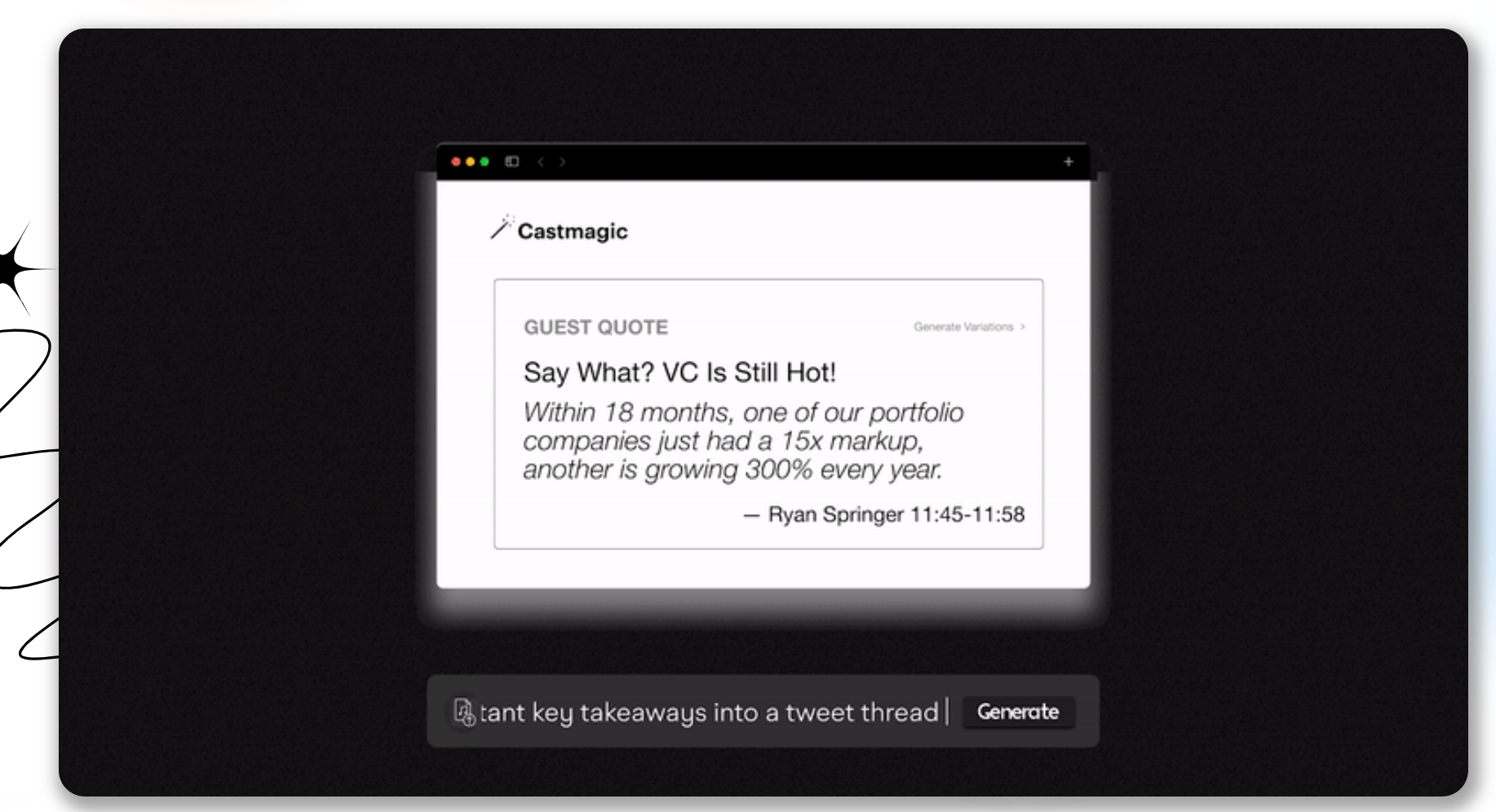 CastMagic
Transform podcast audio into valuable content effortlessly with CastMagic, the ultimate AI-powered podcast shownotes and content creator.
Podcasts, over the past few years, are blowing up by leaps and bounds, and for all the right reasons. Podcasts like Joe Rogan's and Jordan Peterson's and others help bring insightful and meaningful content,  in a way that people like and understand.
But more times than often, podcasts can be too long, and not everyone has the time of day to watch an hour-long podcast.
That's where CastMagic comes in.  
Castmagic is an innovative AI tool designed to simplify the process of transforming podcast audio into concise notes, and even convert all of it into written content that you can turn into a blog.
Castmagic utilizes cutting-edge AI technology to automate the post-production process, enabling users to convert their podcast audio into high-quality, ready-to-use content within minutes. By putting content production on autopilot, Castmagic significantly increases content output.
Best Features Of CastMagic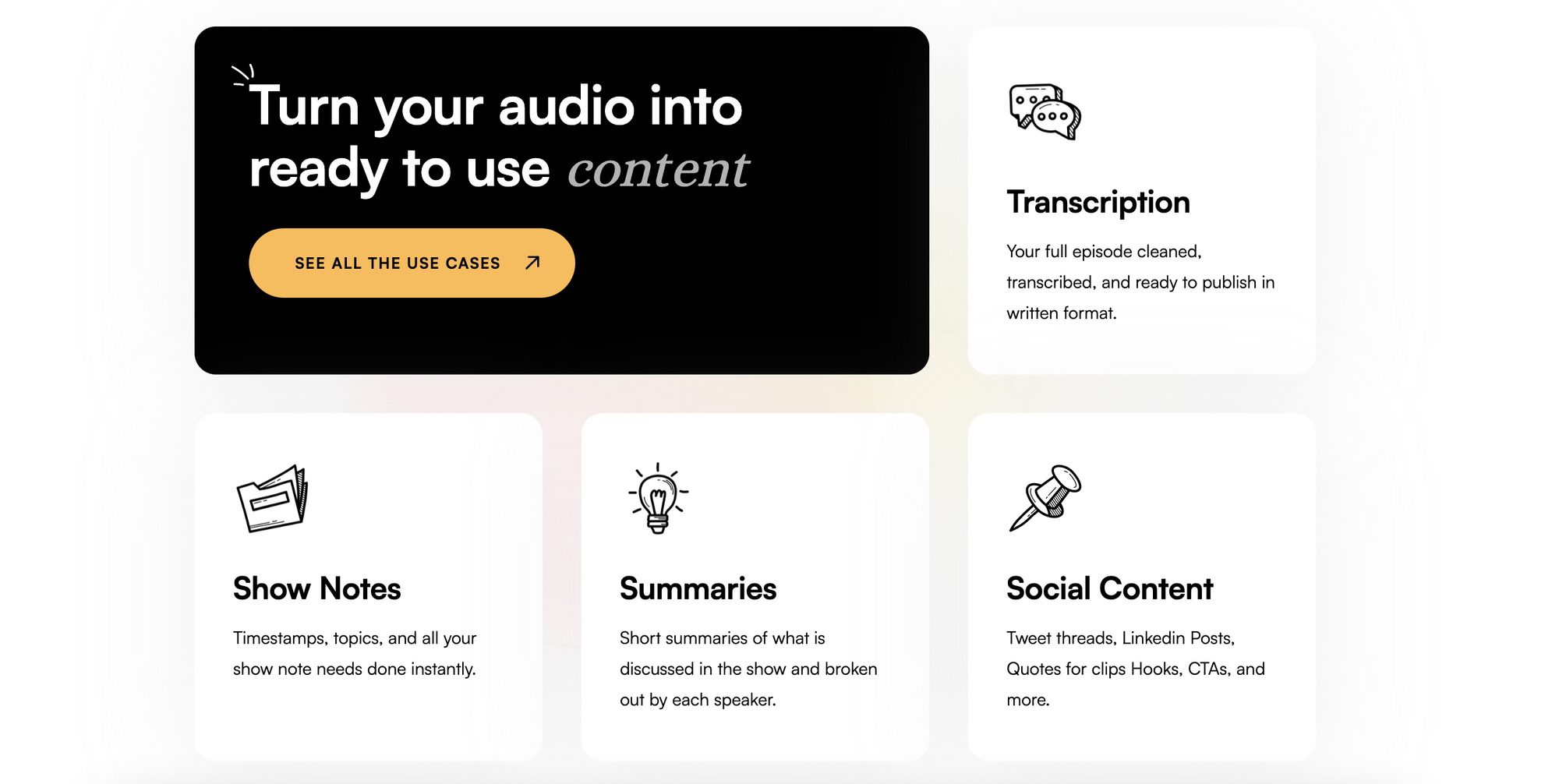 There are a lot of use cases and features for CastMagic, being the potentially groundbreaking AI tool that it is. here are a few features that CastMagic provides:
Lets your manage the content on your shows, extract key points, and convert it into uploadable, written content
Content extraction tool that lets you cut out the fluff, and zero in on the important parts
Feed in podcasts, and extract the most important points for your show notes
A scalable tool that lets you process your entire podcast catalog in moments
Turn podcast content into SEO-optimized, ready-to-upload content for blogs and social media content
Social media snippets for LinkedIn, Instagram, Twitter, and more.
API access for application integrations outside CastMagic
Tools Similar To CastMagic
Don't like CastMagic? No worries. Here are a couple of CastMagic alternatives that you might want to try out:
Shownotes, similar to CastMagic, take podcast notes to another level. This cutting-edge tool automatically condenses any podcast episode into captivating summaries and crafts a stunning landing page, complete with a full transcript and handy captions file.
Powered by the infamous ChatGPT, Shownotes works its magic by transforming YouTube's automatic captions into summarized key points and notes. However, it goes beyond just that and allows you to turn this transcript into a captivating blog post, amplifying the reach and impact of your podcast.
If I had to define PodSqueeze in a few words, I'd describe it as the ultimate AI-powered sidekick for content-hungry podcast creators. This tool is designed to make content generation a breeze, saving you time and effort with just a few clicks.
With PodSqueeze, you can simply select an episode from your RSS feed, and let the AI work its magic. Sit back and watch as it generates impressive show notes, accurate timestamps, and even eye-catching newsletters, all while you sip on some premium coffee.
How Much Does CastMagic Cost?
Though CastMagic doesn't come for free, not even on a free trial, their paid plans are definitely worth the money. Here's an overview of them :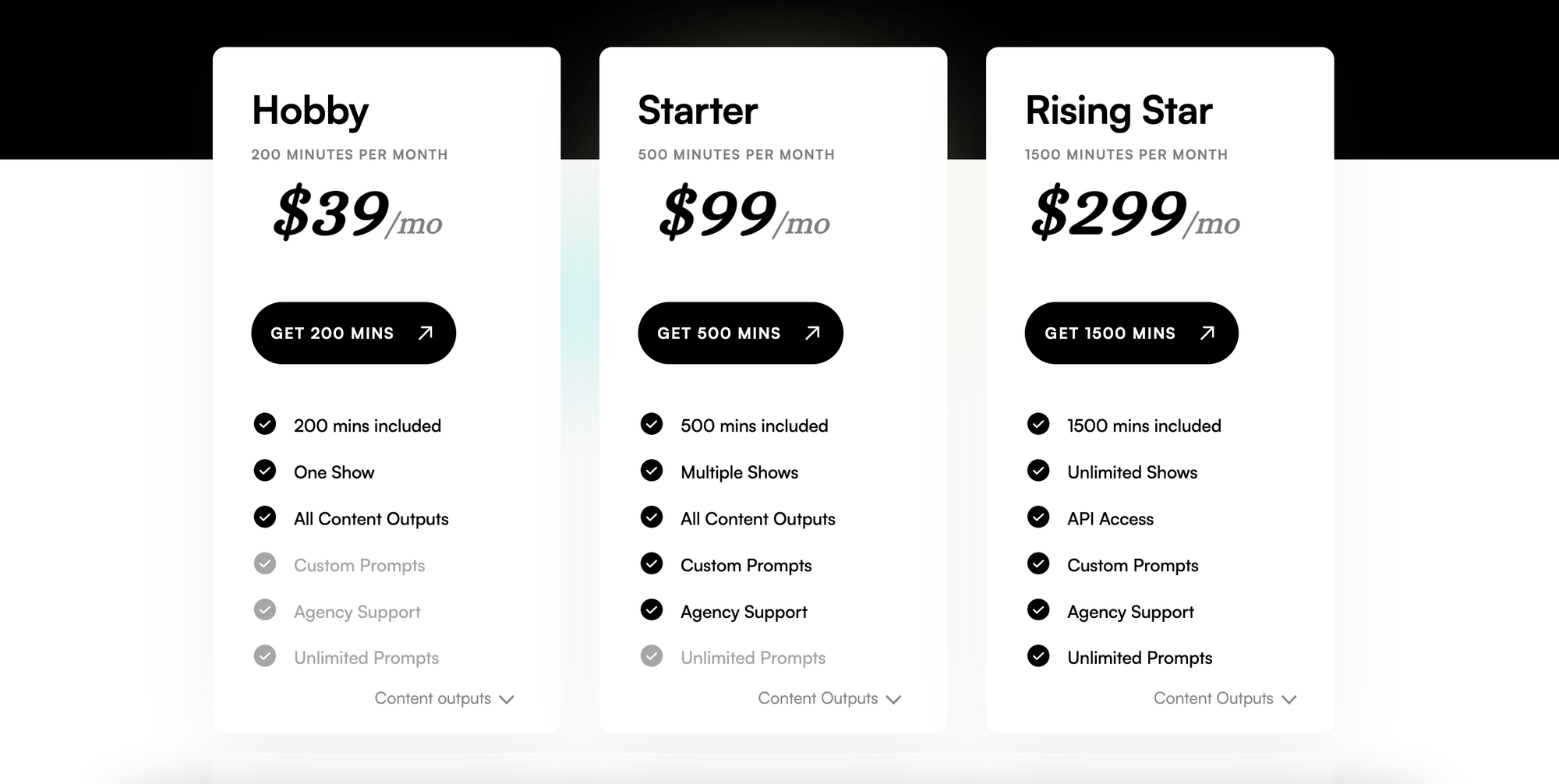 Hobby Plan(from $39/month): 200 Minutes of content generation for one podcast show
Starter Plan (from $99/month): 500 minutes of content generation with custom prompts, and multiple podcast shows
Rising Star Plan (from $299/month): 1500 minutes of content generation, API access, Unlimited shows, and more
Comments
Join the newsletter to receive the latest updates in your inbox.