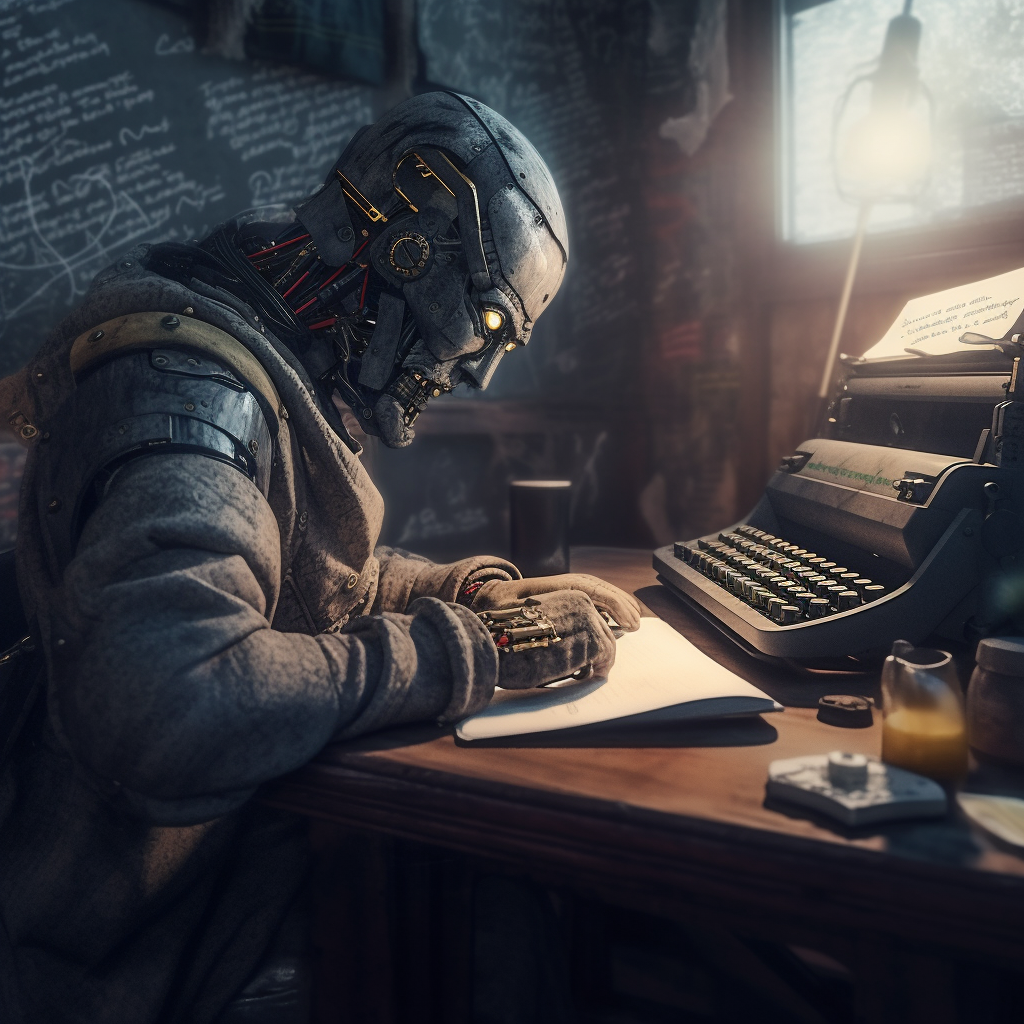 WriteSonic Review - How Good Is This AI Assistant?
As a writer and the founder of an innovative AI blog, I've reviewed a lot of AI tools on the internet, particularly the ones that center around content creation or better put, writing.
Today, like the previous tools I've covered, I'm talking about another tool that's quite famous on the internet and has gained funding, recognition, and a large customer base in a very short period.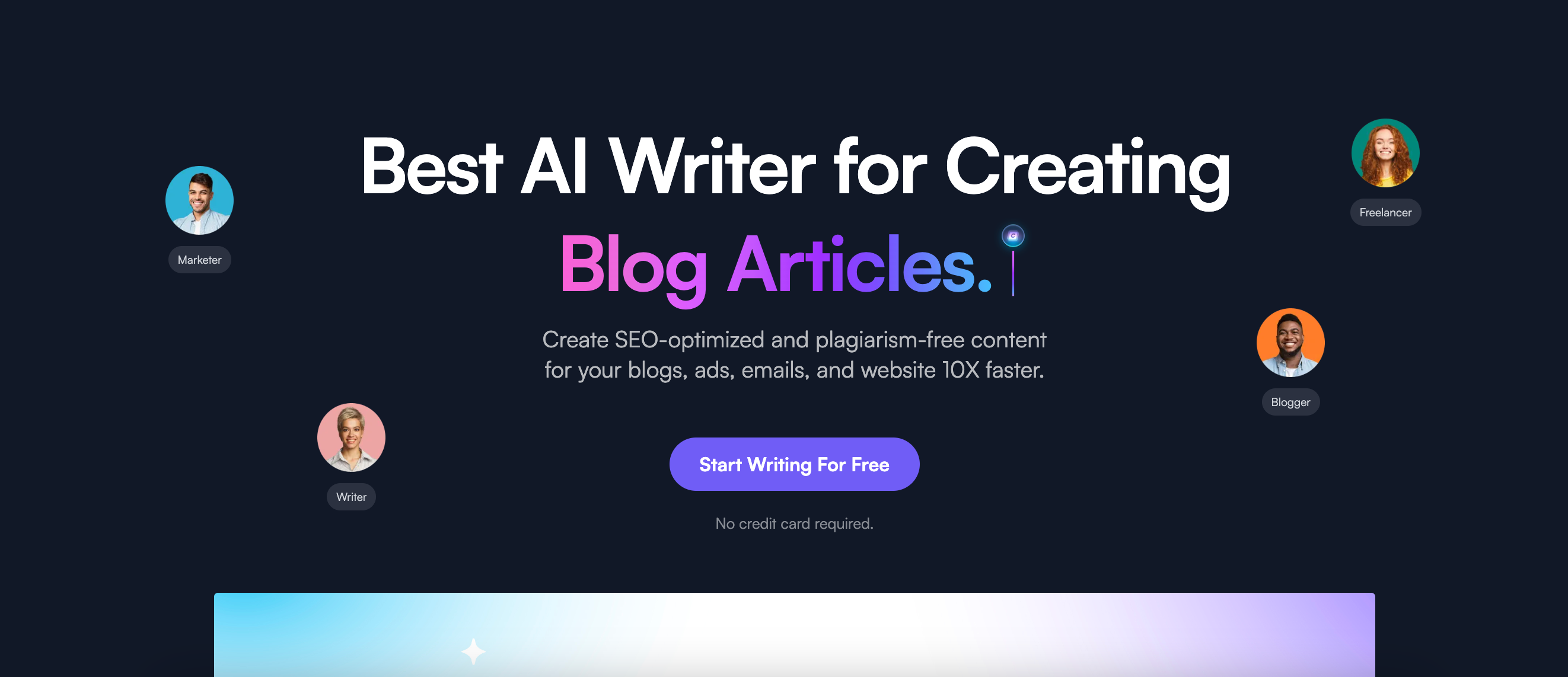 WriteSonic is an online, AI-based writing tool that lets you whip up content using just a few prompts and has worked great for people that want to bring customizable automated writing to the table.
In this guide, we'll discuss the various features WriteSonic brings to its audience, serving as an insightful guide that will help you decide whether you should be investing your time and money into this tool. So make sure to read this guide till the end, and find out if this AI story generator is for you.
What Is WriteSonic?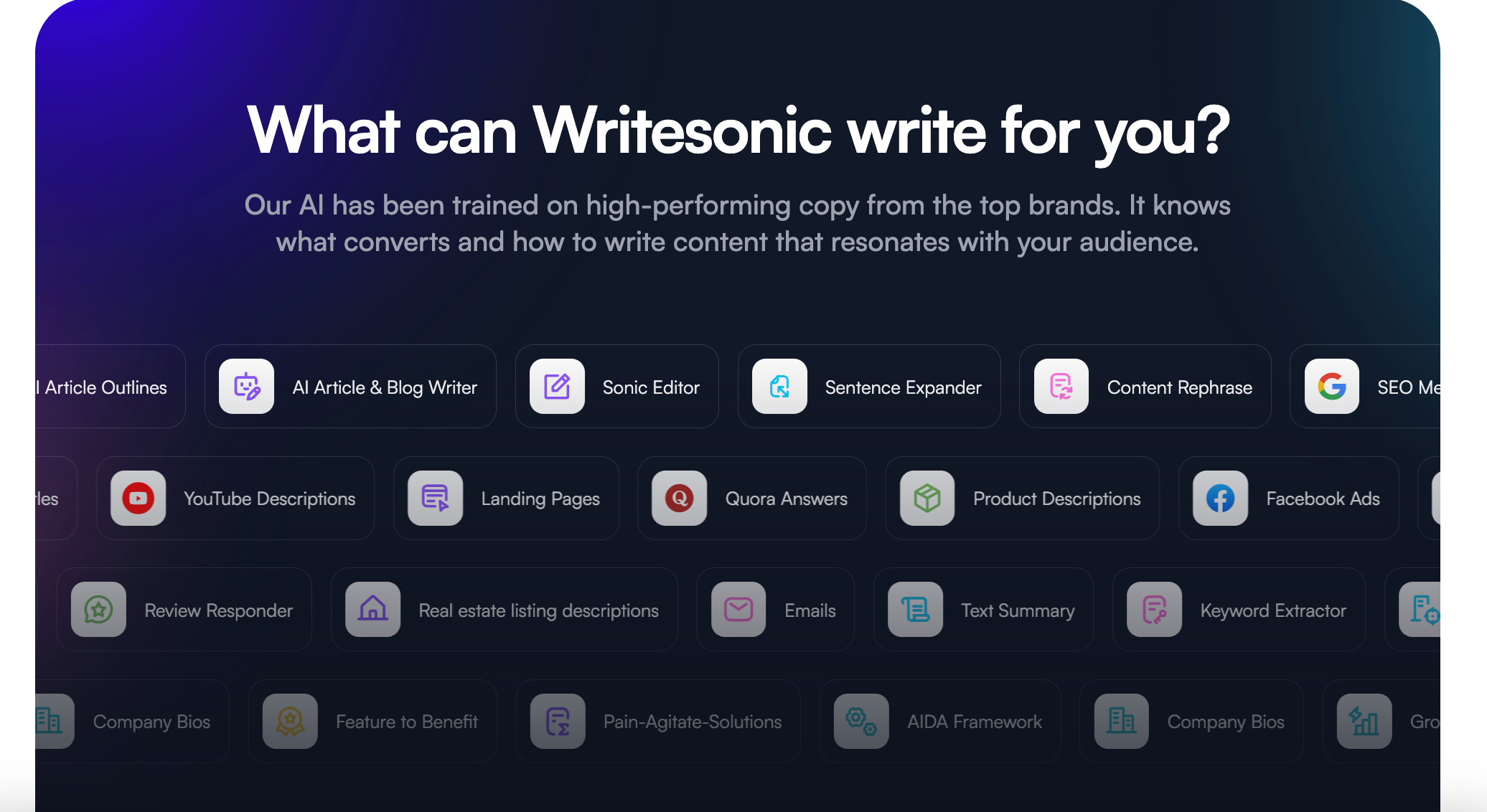 Writesonic is an AI writing and image generation platform that aims to enable individuals worldwide to create various types of content in a significantly shorter amount of time.
The tool has proven to be the best of both worlds, as users can not only get written content generated in a matter of minutes, but generate images to make their blogs look more engaging and stand out on Google search engine, and more.
So far, users are cheering for how this tool simplifies the process of writing and is being used for publishing SEO-optimized articles, blog posts, landing page content, youtube descriptions, social media captions, ad copies for marketing campaigns, and more.
Founded in 2021 by Samanyou Garg, Writesonic has experienced steady growth and currently boasts over 200,000 users within just a year and a half of its launch. One of the reasons for its popularity is its competitive pricing and the ability to generate articles with just a title as input.
Writesonic combines its unique blend of machine learning models to enhance the capabilities of GPT-3, making significant advancements in the field of AI writing. By leveraging these advanced technologies, Writesonic provides users with a powerful tool to streamline their content creation process.
WriteSonic Features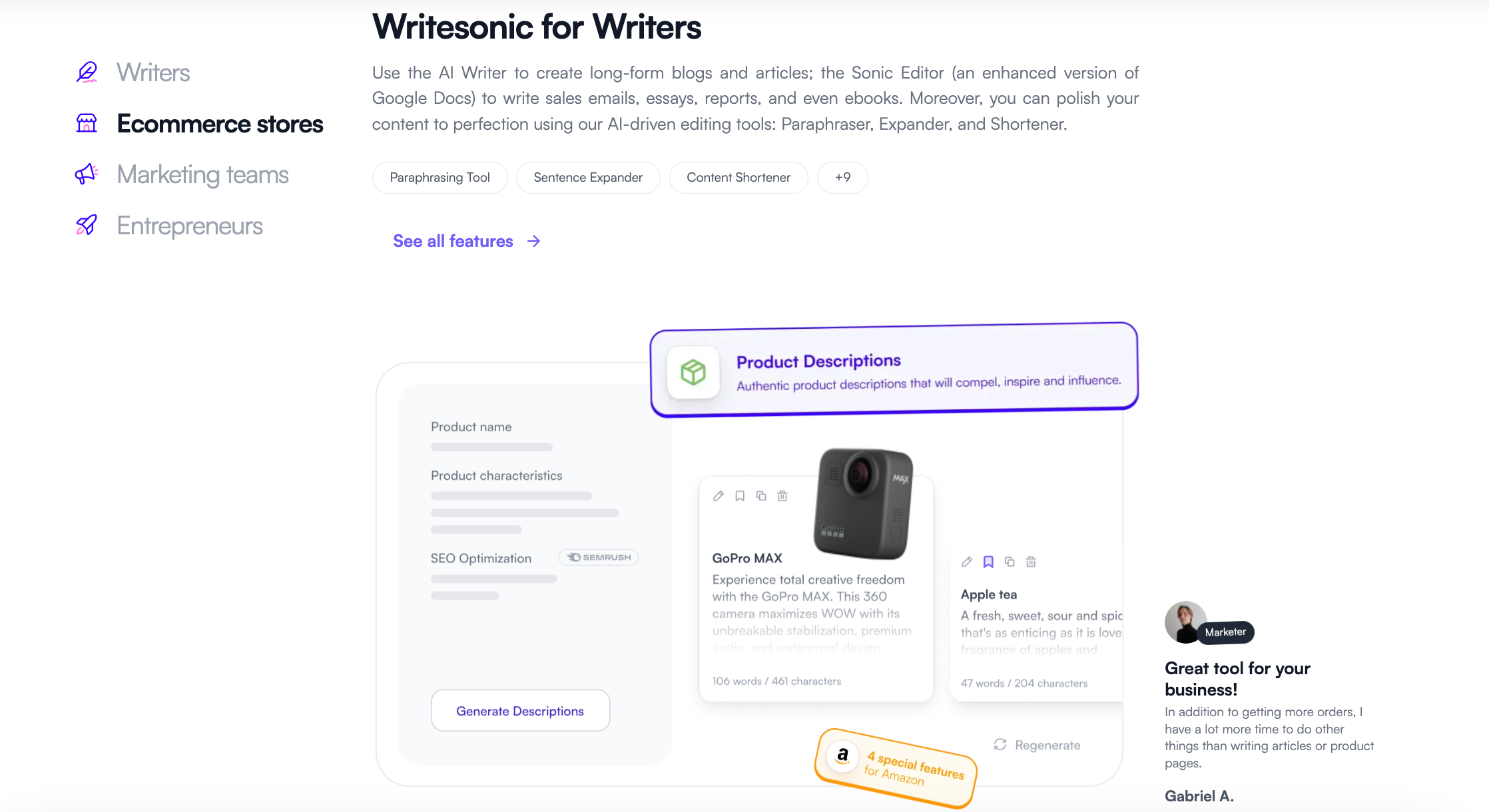 WriteSonic, being an infamous online tool, brings a lot of different features for its customers, and while there are too many individual features to discuss in one blog post, I've covered some of the major ones to give you a rough overview of what they're all about.
Article Writer 3.0
This is among the best features of WriteSonic. By inputting just the topic name, and the tone of the voice, this tool lets you generate long-form content in a matter of seconds. It allows users to generate more than 1000 words in a single instance, which, by the way, is free of any plagiarism, and is up-to-date with the current information and trends on the internet.
Paragraph Writer
The paragraph writer works similarly to the one that I've reviewed on Jasper AI, which lets you generate paragraphs on any certain topic. All you need to do for this one is input the topic and let the AI do its magic of generating multiple variants of paragraphs detailing that certain topic.
Article Ideas
Sometimes, when you're experiencing a mental block, thinking of ideas for your next blog hit can be quite hard. That's where WriteSonic's idea generator comes in. Just input a seed keyword for your niche, such as "Earning passive income" or "fixing kitchen sink", and WriteSonic will generate insightful ideas that will help get your thoughts in order.
Available In Multiple Languages
One of the best things about WriteSonic is that it's available in a variety of different languages, which has helped businesses cater to a global audience, rather than just stick to the English language.
So far, there's a total of 25 different languages that WriteSonic supports, which includes German, Chinese, French, Italian, German, and more. Check out the full list here.
ChatSonic - An Innovative Chatbot
If you think ChatGPT was impressive, wait till you see what ChatSonic is all about. This innovative Chatbot is up-to-date with all the current world events, has unlimited access to the internet, and even helps you generate references from where it got the information as well. This feature alone has allowed it to become quite famous among writers, bloggers, and students on the internet.
WriteSonic Pros and Cons
WriterSonic, housing a plethora of tools and features, bring a lot of good and bad to the table, and here's a summarized list of pros and cons that they have:
Pros
Interactive web application design
Very accurate AI generation for content
Detailed documentation for developers and businesses
Affordable rates
Very active in their product development
Fits across a lot of use cases
Comes with a free version
Cons
Limited tone settings
Not the best for technical content
Support can be quite slow
Who Is WriteSonic For?
As I mentioned before, there are a lot of different use cases, especially for writers, that WriteSonic works perfectly. If you're thinking about whether this AI writer is for you or not, here's a rough overview of their use cases to help you get started
Bloggers/Content Writers
Writesonic is an excellent tool for bloggers and content writers for several reasons, and there are a lot of reasons for that.
First off, using its AI-powered capabilities, Writesonic automates the writing process, allowing bloggers and content writers to create content 10 times faster than traditional methods. This time-saving feature is invaluable for professionals who need to produce high-quality content regularly.
Another advantage of Writesonic is its versatility in supporting a wide range of content formats. Whether bloggers and content writers need to create articles, blog posts, ads, landing pages, eCommerce product descriptions, or social media posts.
Product/Slash Business Owners
WriteSonic is an invaluable tool for e-commerce product owners and business owners, offering a comprehensive solution to their content creation needs.
One of the primary benefits it provides is the ability to create compelling ad campaigns. In the highly competitive world of online advertising, it's crucial to capture the attention of potential customers quickly.
WriteSonic's AI-powered capabilities come into play here, as it generates engaging ad copy for various platforms like Google Ads, Facebook Ads, and Instagram Ads.
By providing essential information about their products or services, e-commerce, and business owners can rely on WriteSonic to generate impactful ad content that not only grabs attention but also drives conversions.
Affiliate Marketers and Freelancers
Freelancers often have to handle multiple projects and clients simultaneously, making efficiency a top priority. WriteSonic enables freelancers to streamline their content creation process, allowing them to generate high-quality written content quickly.
On the other hand, Affiliate marketers rely heavily on persuasive and engaging content to drive traffic and conversions. WriteSonic helps affiliate marketers create compelling product descriptions, promotional blog posts, social media posts, and other types of content.
Is WriteSonic Free To Use?
WriteSonic starts with a free trial, but as with all good things, the real benefits lie in the paid version of this tool. Here's an overview of their paid-price plans, giving you a better overview of everything: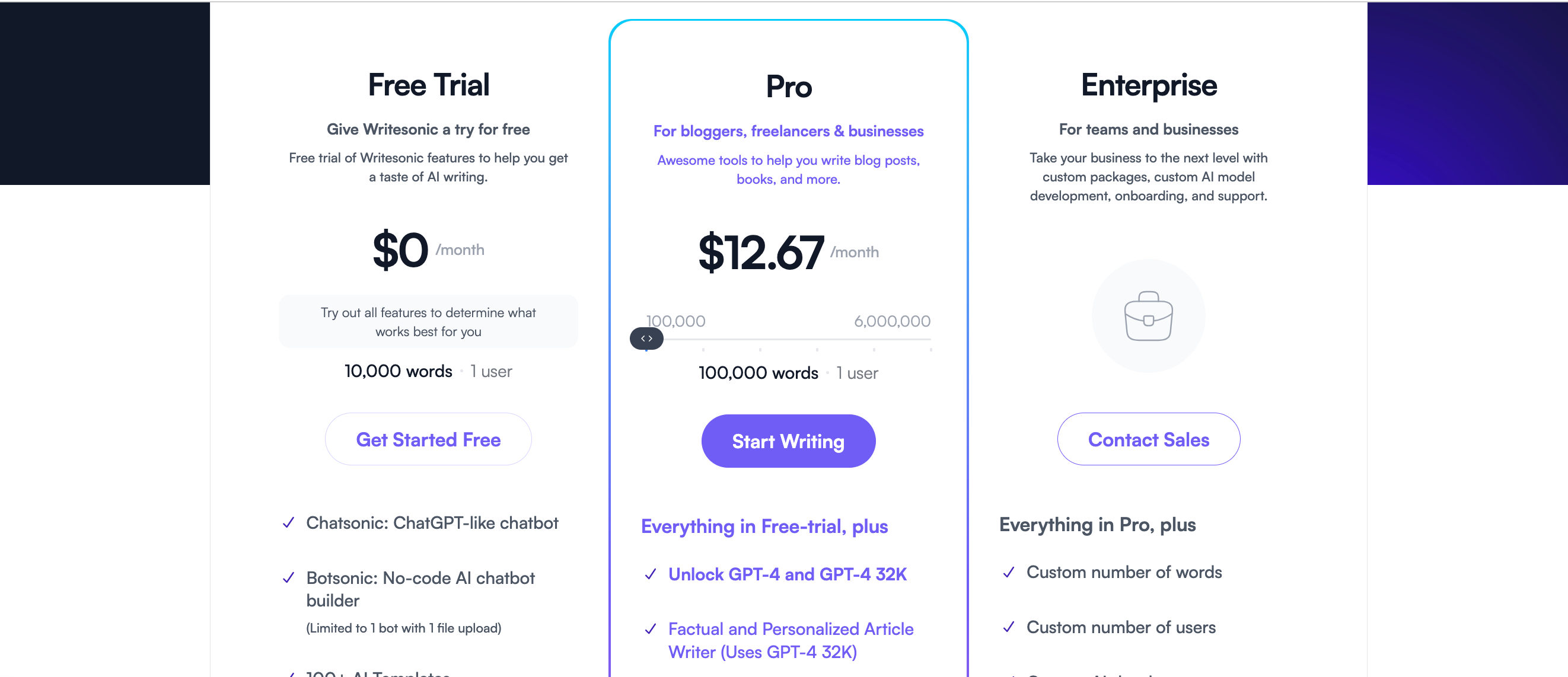 Free Trial ($0/month) - 10,000 words, access to ChatSonic, 100+ content templates, and more.
Professional Plan ($12.67/month) - 100,000 words a month, GPT-4 AI model, Access to BotSonic, API access, premium article rewriter, and more.
Enterprise Plan (Contact Support) - Scalable plans for enterprise which include full-scale access to all of the features included in the WriteSonic base.
WriteSonic Alternatives
WriteSonic has a lot of great features that prove to be helpful for bloggers, marketers, freelancers, and business owners alike, but it's more than understandable that it won't fit every writer's description out there.
That's why I make sure to list better alternatives to almost every product review I do on this blog, giving you a lot of options to choose from
Some of the best WriteSonic alternatives:
I've also reviewed some of the best writing tools in a detailed blog of mine, so don't forget to check it out here.
Bottom Line
WriteSonic brings a lot of features to the table, and having a free version at the disposal of users, there's not a lot of room for hate on this innovative AI writer.
They're affordable, are developing newer and efficient models for their AI, and researching new ways to help make writing more streamlined, efficient, and easy. On top of that, their paid plans are quite affordable, so you're getting a premium experience at a very low price, which is why customers love WriteSonic.
Comments
Join the newsletter to receive the latest updates in your inbox.